Project & Quality Management System
for achieving and maintaining:
ISO 13485:2016,
CE Mark,
FDA QSR's (21 CFR 820) and
FDA 510(k)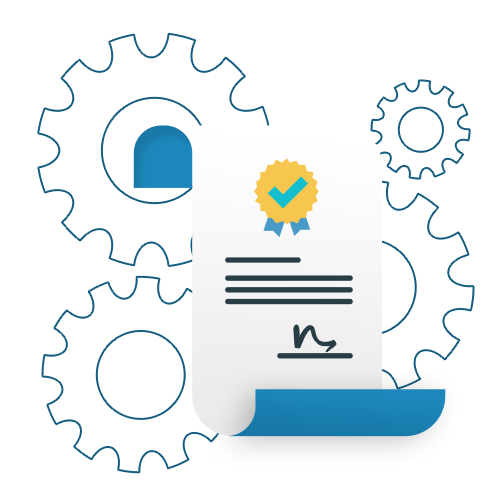 FDA Clearance, CE Mark or ISO certification
is not only a serious commitment
to your medical product but
also to the quality of that product.
qmsWrapper helps you both organize and
manage the development of your product
and also to keep your commitment to quality.
qmsWrapper does this by integrating and combining
Project and Quality management software into one.

It is built to help you create a safer medical device and
get it to market faster. It helps you organize, manage,
track, cooperate and speed up the product certification process.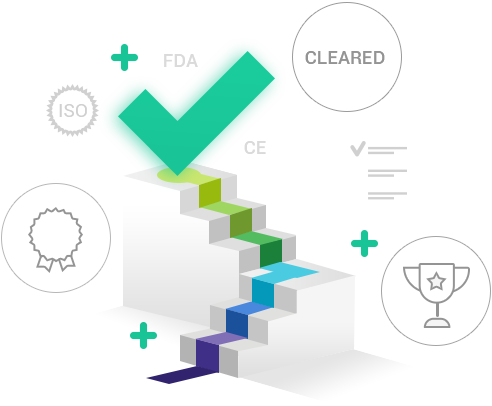 It is also easily adaptable/customizable to ISO 9001, and to other quality standards.
Quality becomes not just a buzzword but a means to get things done.
It transforms compliance from concept into a true competitive advantage.
Companies that deliver the best quality products and services efficiently - succeed.
Essentially, qmsWrapper meets the core needs of MedTech companies and is particularly well suited for:
Start-ups and Smaller companies

Developing Class I, Class II, and DeNovo (seeking Class II) devices and

seeking 510(k) or De Novo clearance
MedTech companies

Developing CE Class I, Class IIa and Class IIb and

seeking CE Mark
Managing projects with the following compliance needs:

FDA QSR 21 CFM 820,

ISO 13485:2003, and

ISO 13485:2016
qmsWrapper is an all-inclusive integrated software that includes:
...it effectively eliminates the need for multiple software applications and
a separate, "bolt-on", quality system.
Each module exists both as a separate module
so you can work within each as needs arise,
but also, they exist as highly integrated and
interconnected to maximize productivity and
provide a seamless team based compliance experience.

The advantages of such an integrated PM+QM system
is that FDA or ISO compliance is not limited to "reporting" or
to the tracking of reports, but rather they are integrated
right into your workflow processes directly,
so quality becomes everyone's business throughout the workday,

we call that Managing Through Quality (MTQ).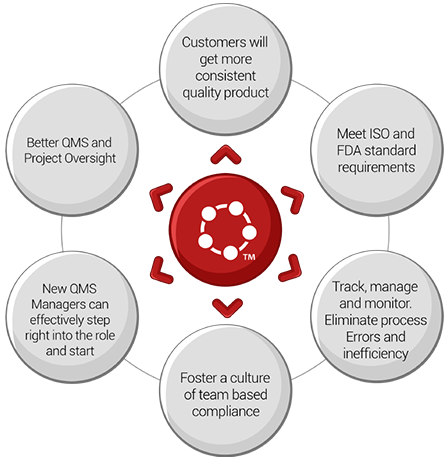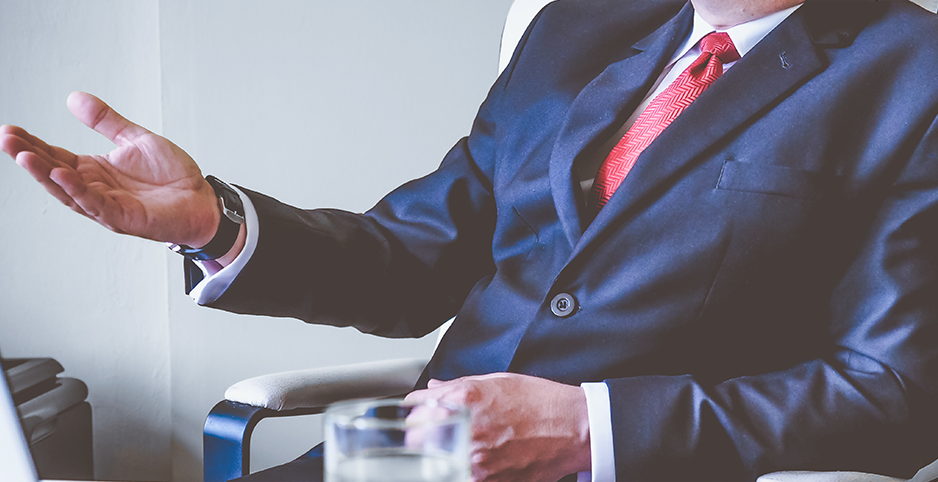 Quality managers
with little experience
or knowledge of the supported Standards,
can easily step into the role
and effectively start.
qmsWrapper provides a step-by-step sequence of tasks
with appropriate explanations, and cautions,
to help QMS Managers correctly perform their job.
Workflows Processes

define
the many or few steps needed to complete
a set of Quality requirement tasks –
without missing a step.

The

QMS Workflow Processes

help reduce
errors, forgotten paperwork, missed QMS reports.
Users know exactly what to do when to do it,
and how to complete a compliance requirement
within their assigned set of project tasks,
that are monitored and managed
by management automatically.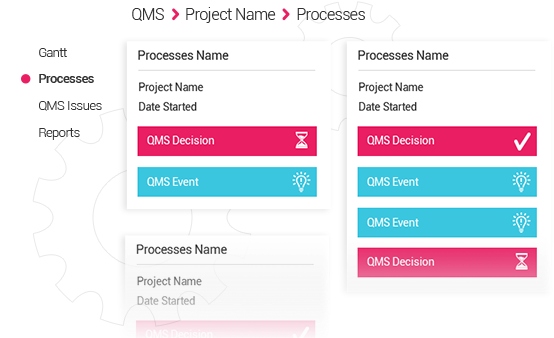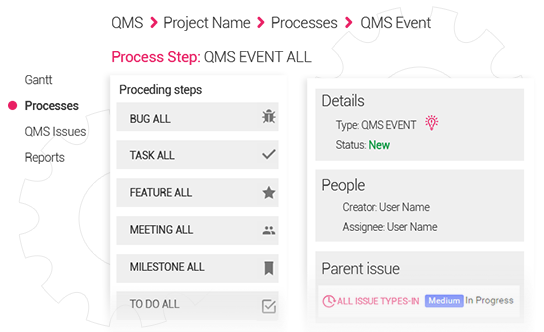 In qmsWrapper, the QM module
virtually mirrors the PM and the DMC modules,
tracking all the QMS events for each of the projects
as they are defined in the PM module.

This mirrored approach means
a QMS Manager does not need to chase
the project members for compliance issues –
rather the issues come to them.

There is no need for the QMS manager
to shadow the Project Manager.
There is no QMS paper-chase.

The flip side of this approach is that
project members are automatically included
in the compliance process,
as the QMS workflow processes will
automatically include them in whatever
compliance issue is necessary and
at what point it is necessary, including
identifying what form to complete
and what to do with it.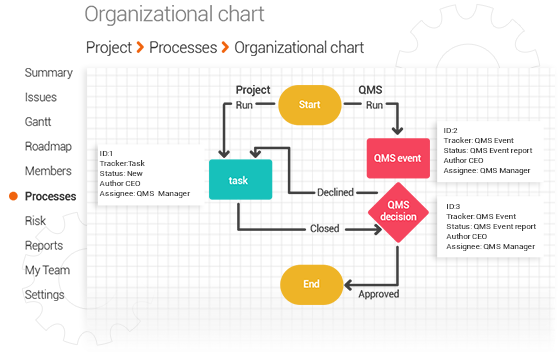 A QMS Processes Driven Project Management ensures that the projects are managed in a most efficient way. qmsWrapper includes 89 default process workflows that are predefined according to the ISO and FDA standards.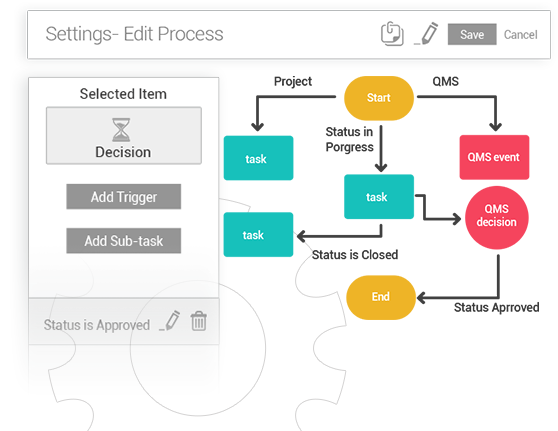 To further improve flexibility,
we built an ultimate Process Editor
that allows customers to customize
the default QMS Processes or SOPs
to fit their company's particular workflow needs,
or build new processes from scratch,
just by following few easy and simple steps.
The QMS documentation – especially for a complex project – can be endless and daunting.
qmsWrapper is designed to find a needle in the haystack, any document can be listed and filtered only for the desired process, furthermore, all document searches are fast, and results are returned immediately.
A comprehensive DMC includes file version control,
detailed history, tracking, tagging, comments
and authority control, full support for document search.

Secure data management with QMS Vault, ERES,
and role-based permissions access.

Includes a built-in Quality System Manual builder tool.
The Quality Manual defines the qmsWrapper and
the processes used.

Certification audits all start with the manual, now
the manual is the start of qmsWrapper.

This tool simplifies the process of establishing
the quality manual that correlates directly with qmsWrapper
and the Processes used.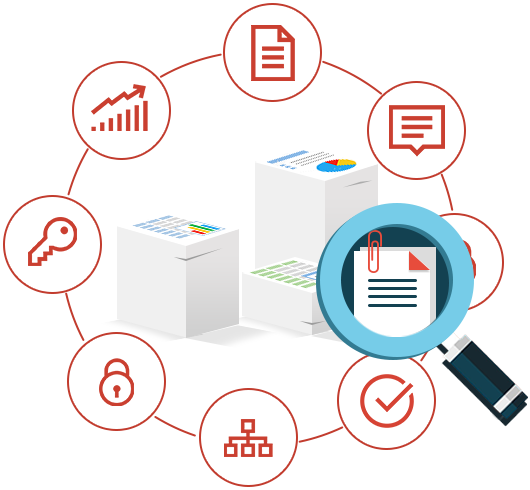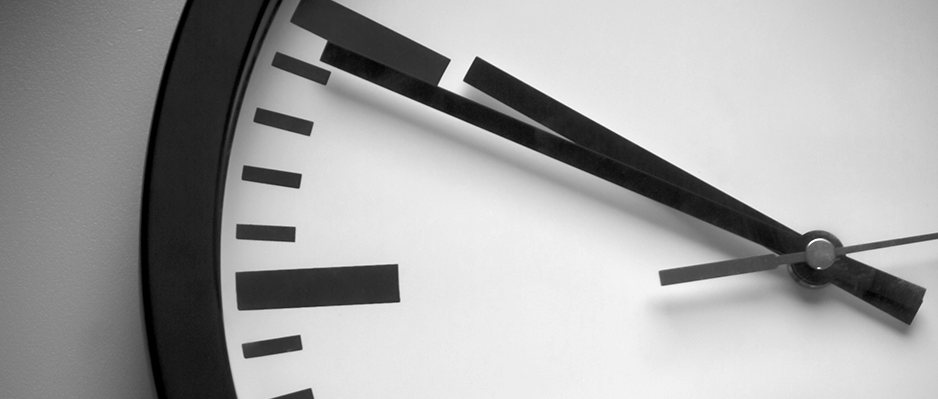 It will
save hundreds of hours
of documentation work
for your teams.
ISO 14971 based
flexible Risk Management,
where you can create your own Risk Analysis in any process,
and define your own risk varieties and action plans.
It was built with an integrated approach
to manage risk across an organization.
It's flexible so it can be appropriate and
proportionate to the complexity and type of organization involved.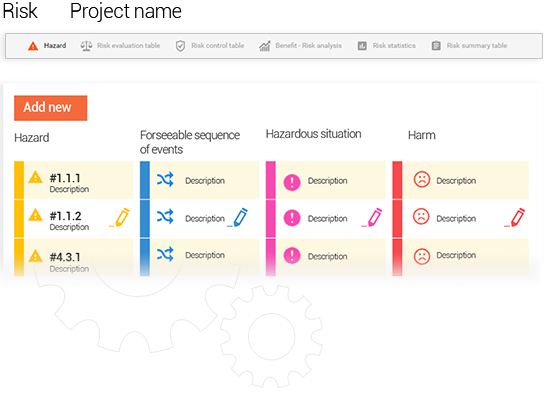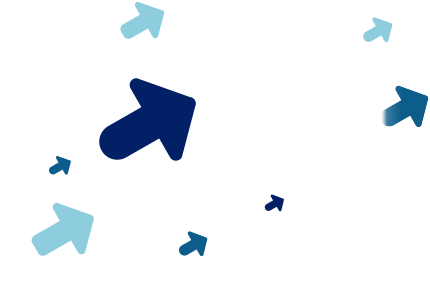 The continuous improvement,
tracking and measuring of your operations
inevitably leads to an increase
in productivity and efficiency.
qmsWrapper, makes the process of achieving and maintaining ISO,
CE Mark or FDA compliance as painless as possible,
without the need for a 2nd bureaucracy to manage it.
If you're ready to get serious about your quality management and
product development efforts, qmsWrapper is your solution
Start Managing Through Quality Today!