Risk Management with qmsWrapper
Based on ISO 14971 guidance
In our fast-paced world, the risks we have to take and manage,
in order to continue to grow and to develop, evolve quickly.
Effectively managed risks help companies achieve their goals.
Products that are developed following quality standards,
have improved the quality of life for thousands of people.
We believe that the idea of improving the quality of life
is the very premise of product risk management.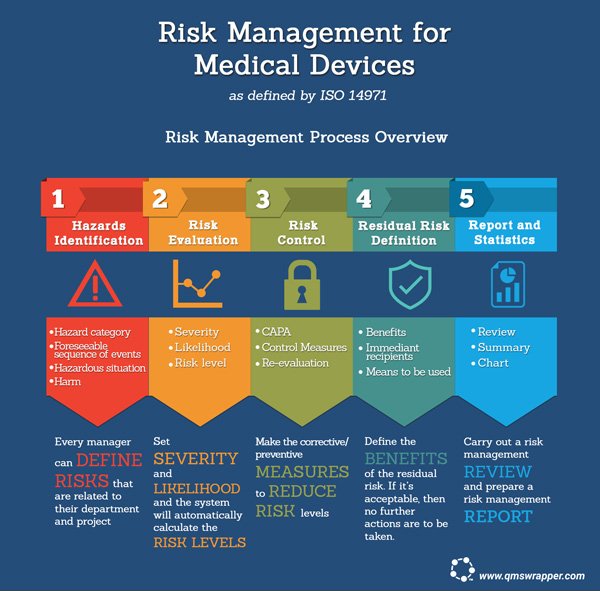 Improve your chances of a successful project.
"qmsWrapper is designed for companies
who have a mission to constantly deliver
quality in their products."
qmsWrapper Risk Management is powerful,
but the user-friendly tool, that makes risk & compliance management
easy for everyone.
Our software solution improves the chances of a successful project plan for startups,
mature organizations, IT Quality teams, PMOs, Governance and
especially medical device companies
facing unique challenges with Design Controls and Risk Management.
It can be integrated into the design process
from the get-go, then revisited at every phase.
The simplicity of the platform is increasing the effectiveness,
spend your limited time and energy
tracking risks and planning mitigations instead of managing a tool.

qmsWrapper has an integrated approach to managing risk
across an organization.
It's flexible so it can be appropriate and proportionate
to the complexity and type of organization involved.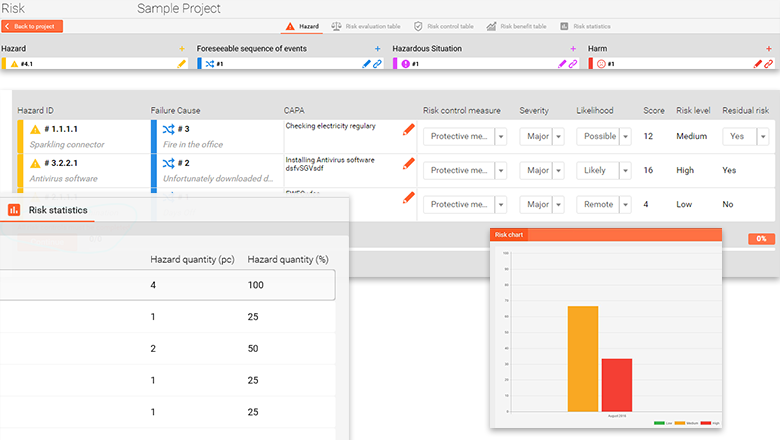 Risks can be inherent at every product phase and
every product generation from product planning,
through the production, to post-production phase,
throughout the entire product's lifecycle

Risk Management needs to be available
for access at any time -
so you don't have to reinvent the wheel each time.
All the necessary information,
like the hazardous situation at risk identification phase,
the hazard categories are on a single interface,
graphically mapped out for a simple overview.
"some level of failure is inevitable,
but the use of a smart risk management system can help
to mitigate the frequency and severity of failures."
The different type of risks and the actions to be taken can be incredibly diverse.
The software is based on ISO 14971 guidance and
combined with a flexible system where you can
create your own Risk processes, including
approval workflows, and define your own risk varieties and action plans.
It can be appropriate and proportionate to the complexity
and the type of organization involved.
Provides a step by step sequence of a task
with appropriate explanations and cautions
that makes possible for risk or
quality managers even with little experience
to appropriately perform their risk related tasks

Your risk controls will have a direct impact
on your design outputs, as well as your
verification and/or validation activities.
If you're ready to get serious
about your risk management and
product development efforts,
qmsWrapper is your solution.