qmsWrapper eQMS ISO 9001
Discover the Power of eQMS ISO 9001 - Your All-in-One Solution for Quality Management,
Project Efficiency, and Risk Mitigation to Obtain Certification with Confidence.

To implement ISO 9001, streamline document control, improve risk management, and promote
effective team communication, examine the comprehensive features of qmsWrapper.

Reserve Your Free Demo Now to Harness the Power of qmsWrapper
for the Success of Your Business!


Project and Quality Management
It's never been easier to keep up your commitment to quality than as with the help of qmsWrapper. We are combining Project and Quality Management as one. Making it as simple as possible by successfully avoiding the additional layers of management and administrative burden to daily operations. Carefully tailored QMS Processes-driven by Project Management ensures the projects are managed most efficiently. That's Managing Through Quality (MTQ).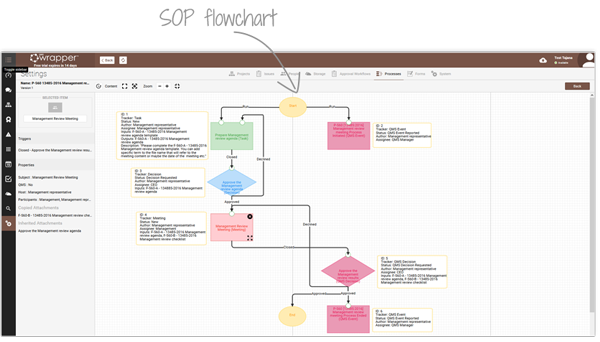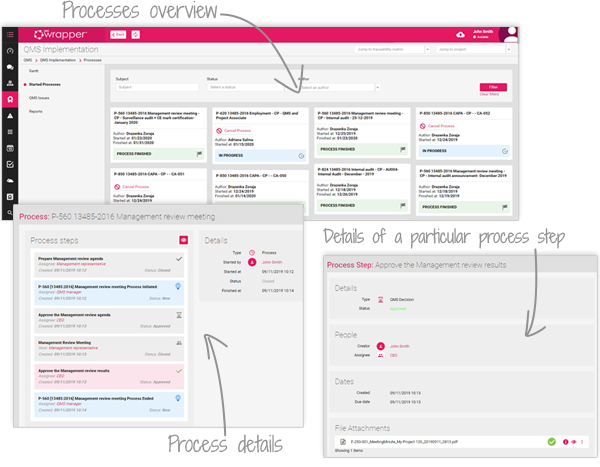 Leaving nothing to chance, qmsWrapper sets staged sequences of tasks with appropriate explanations. QMS managers can finally perform their job without any misconceptions and doubts.
qmsWrapper even offers ready-made workflows driven through QMS processes built according to ISO 9001:2015 requirements. Plus, you have the option to build your processes with advanced Process Editor according to your business needs. The process editor automatizes the implementation of SOPs!
Imagine how easy will be to report and track non-conforming output, documenting results of corrective actions, or performed training through a few simple steps!
Document Management
The ISO 9001: 2015 requires a QMS to have robust document controls. So, as document management is a key part of the implementation, qmsWrapper set it as the base through its structure. qmsWrapper's Document Control is making compliance easier for teams, through version control, approvals, detailed file histories, file tracking, source tagging, comments, authority control. By being able to list and filter for any desired process, all document searches are instant, with the possibility to export as well, of course.
With qmsWrapper's Document Management Module you can:
- approve documents for adequacy.
- identify changes and control the current revision status.
- make relevant documents available at points of use.
- prevent obsolete documents are used.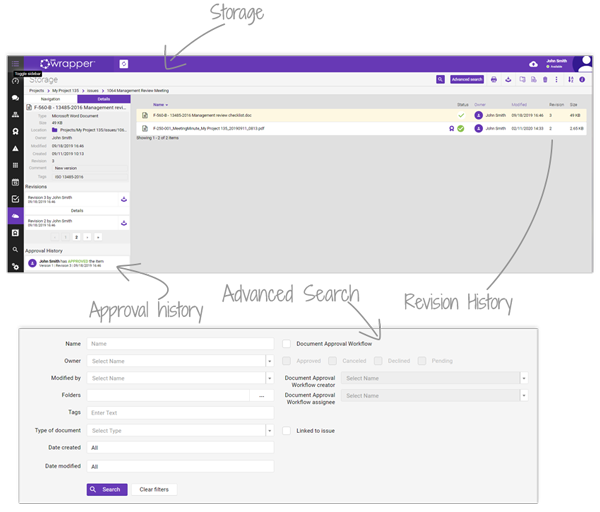 At qmsWrapper, your documents are all cloud-hosted, on secured and centralized storage. It's accessible any time from any device.
A Document Management System will work for you through features such as versioning, tagging, stamps, audit trail, change control, security file locking, and permissions. It's structured on the way the ISO 9001:2015 requires for document control.
Risk Management
With qmsWrapper, the risk is under control. Besides being a user-friendly tool, it automatically upgrades your chances of a successful project.
ISO 9001:2015 introduced an innovative concept: risk-based thinking that directs people to seek opportunities and address risks, so an organization becomes proactive rather than reactive. Risk-based thinking makes preventive action part of the routine.
A responsive risk module provides the possibility to be proactive as much you want. It will prevent and reduce undesired effects and promote continual improvement.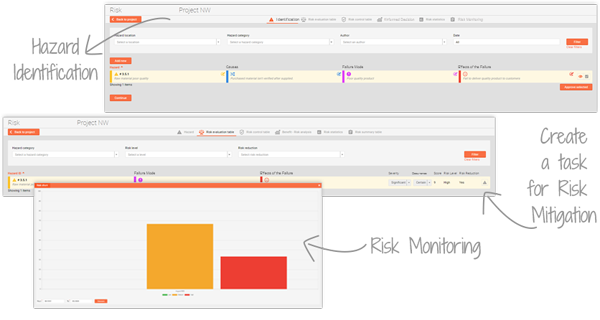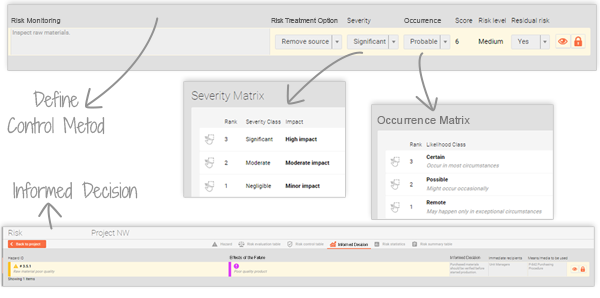 While working in a risk module, it will trigger you naturally to easily identify risks and opportunities related to QMS performance and take appropriate actions to address them. Shortly, is intuitive.
The outputs from successful risk management include compliance, assurance, and enhanced decision-making. So, If you're eager to get serious about your Risk Management, qmsWrapper is your solution.
Form Editor
This improved feature will support your team and you to efficiently create an outline form based on your business needs. With this customizable ingredient of qmsWrapper, you don't have to anything twice. Once you set up, and you have it for a time being without wasting your time and energy to do something again.
With Custom Issue Forms, you will find out how much control you can have over your workflows. Custom web templates, made to follow a quality management system of ISO 9001:2015.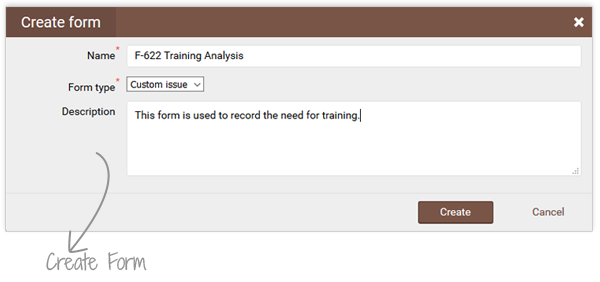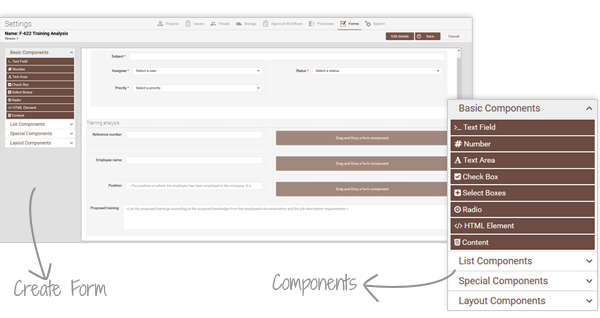 Form templates can give a hand in various business processes. As for premade forms, anyone can undoubtedly know what data to record and how to complete a compliance requirement.
Confidently, you will be capable to properly organize and structure the applicable processes and to guide the user throughout of messy data of QMS implementation and maintenance.
It's a certain type of self-designed templates. It will not just save your time but will simplify data recording. Templates allow you higher flexibility as regulations and business need change.
Team Messaging
qmsWrapper likes to promote smooth business flow, therefore even team messaging was not left behind. Being aware of how communication is important to achieve top quality.
1-on-1 conversations, group conversations and topic-based conversations, all in one. It's a place where the treads keep discussions on the topic so the whole story stays together in an effortless way to follow.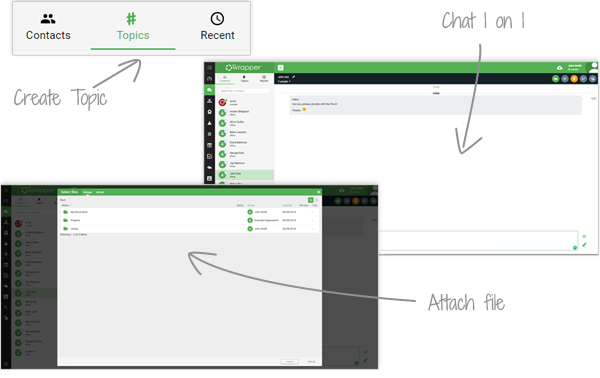 Files shared or sent in a chat are automatically stored in Document Management and can be linked to a particular project. That is QMS compliance made easy! Save any chat as a meeting to a specific project, complete with meeting minutes, agenda, scheduling, follow-up actions.
Your whole international group can communicate in an organized and effective manner with members in different countries, without losing focus and productiveness.
Traceability Matrix
To ensure your project activities and deliverables align with the business requirements, you need to find a way to capture and track all of the relevant information, and to compare it to a baseline. The qmsWrapper had that in mind when the Traceability matrix was designed.
Highly customizable, you can easily adjust, edit any information, with transparent file tracking that supports your business improvement. Easily identify the status of outputs concerning monitoring and measuring requirements throughout production and service provision.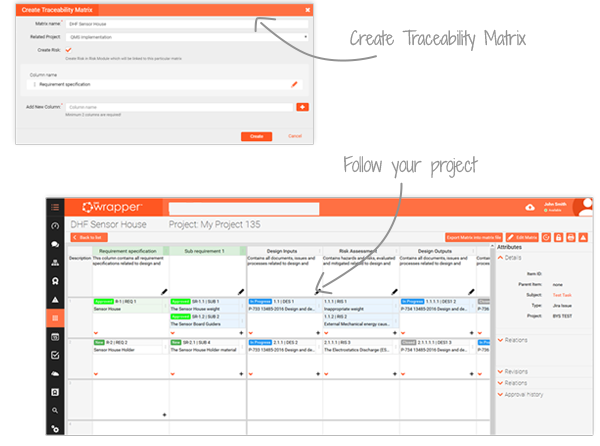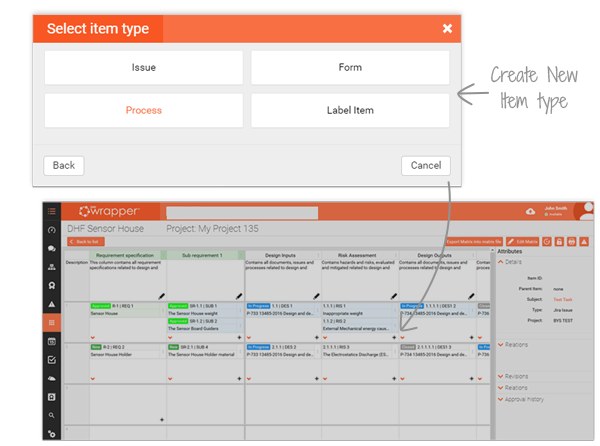 Traceability Matrix benefits teams by helping them to stay focused on tasks, goals, and accurate execution. With Traceability Matrix, you can organize every input and show the details, revisions, and history. It traces the relationships between requirements through the various stages of the project and proves they have been successfully addressed.
And most important of all, it's multi-user. No longer do you need to work alone when every member of your team can contribute.
qmsWrappers Traceability Matrix is incredibly flexible that can meet your industry needs.
Meet qmsWrapper

Take 15-30 minutes to learn how can qmsWrapper empower your company.
Our experts will present a tailored easiest path.