qmsWrapper eQMS for MedDev
Unlock Seamless Compliance and Efficiency with qmsWrapper – Your Trusted Solution for
Medical Device Quality Management.

Organize Projects, Simplify Document Management, Manage Risks,
and Foster Team Collaboration with Ease. Achieve Regulatory Compliance Effortlessly
and Enhance Your Design History File and Technical File Management.

Book Your Free Demo Today!

Project and Quality Management
IT'S EVERYTHING YOU NEED TO ORGANIZE AND MANAGE
YOUR WORK THROUGH PROJECTS
With qmsWrapper it's easy to keep your commitment to quality, by combining Project and Quality Management together as one. Projects woven through quality are smart management that effectively avoids adding another layer of management and bureaucracy to the daily work. QMS Processes driven by Project Management ensures the projects are managed in a most efficient way. That's Managing Through Quality (MTQ).
QMS Processes Driven Project Management
qmsWrapper provides a step-by-step sequence of tasks with adequate explanations, and cautions, to help QMS Managers correctly perform their job. Simply create a full circle of follow-up and coordination for each quality objective, task and issue by driving your Projects through QMS Processes.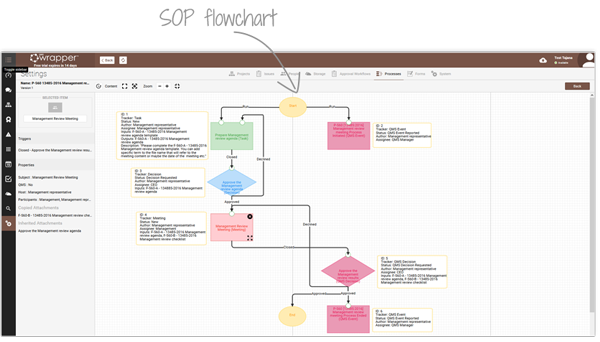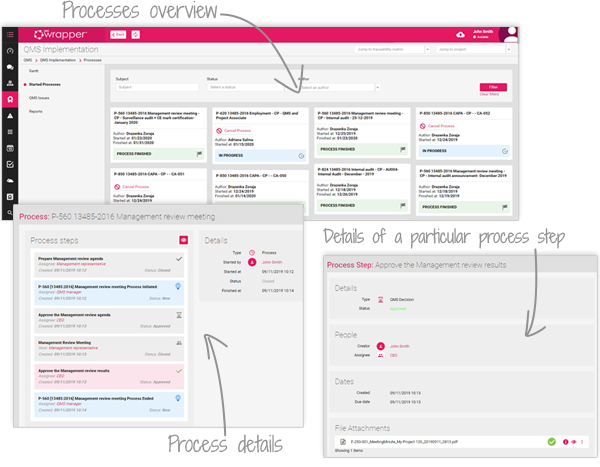 Defined QMS workflow processes can jump-start your project - they make ISO 13485 and FDA QSR compliance easier. With the built-in qmsWrapper Workflow Process Editor, you have the freedom to build your own Workflow processes to suit your specific project or QMS needs. Develop new processes from scratch, just by following a few easy and simple steps. The process editor automatizes the implementation of SOPs!
qmsWrapper includes ready-made process workflows that are defined according to the ISO and FDA requirements. Imagine how easy will be to report and track non-conformities, documenting your CAPAs, or performed training through a few simple steps!
START MANAGING THROUGH QUALITY
Managing Through Quality means as your team members complete their tasks, they trigger QMS events that get automatically reported to the QMS system where managers can oversee the progress – not just the Project Management but any QMS Management without them interfering or imposing upon the routine. Reduce errors, forgotten paperwork and missed QMS reports through workflow processes that are not leaving any room for guessing what's next. Steps are defined, monitored and managed by management automatically.
Document Management
COMPREHENSIVE AND UNDERSTANDABLE DOCUMENT MANAGEMENT,
MAKING COMPLIANCE EASIER FOR TEAMS
With qmsWrapper, you will be able to find a needle in the haystack. Any document can be listed and filtered specifically for the desired process, furthermore, all document searches are fast, and results are returned instantly. Moreover, it can be exported if required.
qmsWrappers Document Management System is designed to support compliance, it includes version control, detailed file histories, file tracking, source tagging, comments, authority control.
Document approval workflows
Simplify feedback and approval cycles without abandoning your platform. Document your workflows through reports,with full approval history. No confusion, re-work or delays.
It allows only authorized users to review and approve documents or access particular tasks, projects and approvals. Besides that, they are automatically documented with complete history approval.
Plus, you can lock, and store approved files in the secure Vault ensuring the integrity of your QMS compliance is never compromised.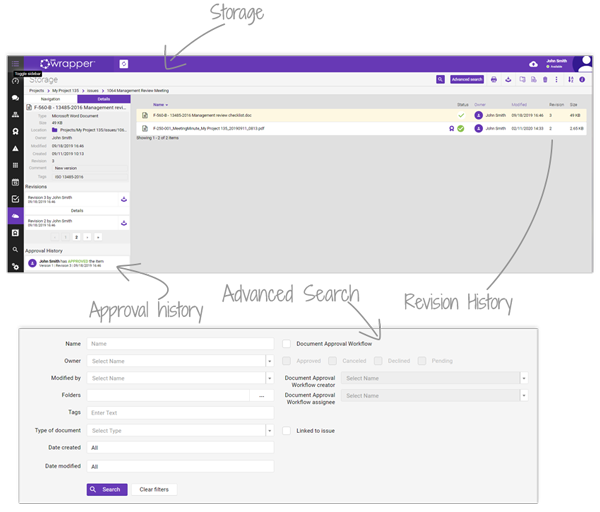 Electronic trail and Document Control
Track, store and control documents to prove compliance. By features such as versioning, tagging, stamps, audit trail, change control, security file locking and permissions you will make Document Management System work for you, not you for it.
Access it any time, from any device
All your documents are saved in one place – secured centralized storage. Cloud-hosted means that you can access your files from any supported device. From anywhere, anytime!
PIN Signature(ERES)
Reduce risks, simplify compliance and speed up audits by using ERES and not wasting time on chasing people for signatures.
Risk Management
CONSTANTLY DELIVER NOT ONLY QUALITY,
BUT SAFENESS OF YOUR PRODUCT TOO
qmsWrappers Risk Management is powerful, but the user-friendly tool, that makes risk & compliance management easy for everyone.
Improve your chances of a successful project.
qmsWrappers Risk Module is encouraging you to focus on the relationship between requirements and design, with emphasis on risk-based design.
It's flexible; therefore, it can be appropriate and proportionate to the complexity and type of your organization too. It's made on the way to be available for access at any time - so you don't have to reinvent the wheel each time. All the necessary information, like the hazardous situation at risk identification phase or the hazard categories, are on a single interface graphically mapped out for a simple overview.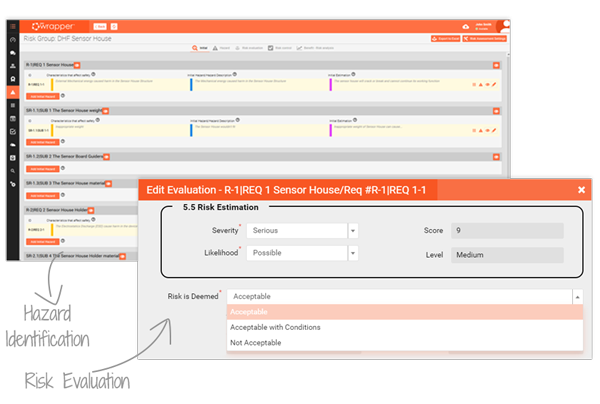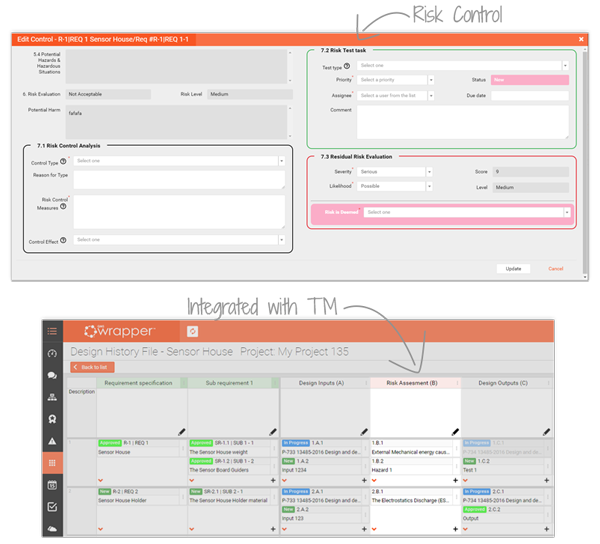 Responsive Risk Module
qmsWrapper is based on ISO 14971 guidance and combined with a responsive system where you can define your own risk varieties and action plans. Fearlessly, make risk-aware decisions, and meet regulatory compliance and lessen the frequency/severity of failures.
It provides a step by step sequence of a task with appropriate explanations and cautions that makes possible for risk managers even with little experience to appropriately perform their risk-related tasks.
Integration into Traceability Matrix
The biggest advantage of qmsWrapper is that Risk Management can be run as a stand-alone module, integrated into a particular project or better still, integrated with the Traceability Matrix. Effectively identify, evaluate and mitigate risks through the single matrix interface.
Your Risk Control will have a direct impact on your design outputs, as well as your verification and/or validation activities. If you're eager to get serious about your Risk Management and Product Development efforts, qmsWrapper is your solution.
Form Editor
EFFICIENTLY MANAGE YOUR WORKFLOW BY STRATEGICALLY DESIGNING
YOUR CUSTOM FORMS ACCORDING TO YOUR SPECIFIC NEEDS
qmsWrapper's Form Editor will empower your team to build and design forms based on business needs. Forget all those repetitive and time-consuming tasks and small processes that end up taking an unreasonable amount of time and energy.
qmsWrapper now provides Custom Issue Forms as a new driving force of your workflow. Now you can make a custom web template according to your needs, or as per requirements of the standard ISO 13485: 2016 or any other that your company follows.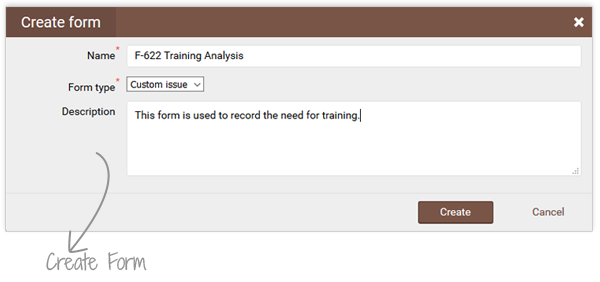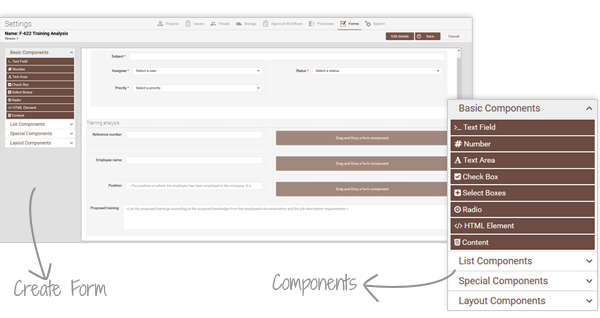 Form templates can be part of the QMS workflow. Automatize the implementation of your SOPs!
The user will exactly know what data to record and how to complete a compliance requirement within its assigned set of project tasks.
Confidently, you will be capable to properly organize and structure the applicable processes and to guide the user throughout of messy data of QMS implementation and maintenance.
It's a certain type of self-designed templates. It will not just save your time but will simplify data recording. Templates allow you higher flexibility as regulations and business need change.
Focus on what is really important finally!
Traceability Matrix
MAPPING AND TRACING THE DESIGN CONTROL RELATIONSHIPS
FOR YOUR MEDICAL DEVICE ARE NOW SIMPLER THAN EVER.
qmsWrappers Traceability Matrix has an innovative and unique approach to manage complex medical device products.
Traceability is required by regulations and this tool helps you stay compliant.
You will have a quick and clear overview of your medical device life-cycle. With no hesitation, now you can freely change, edit any data because everything you input and output can be easily linked and traced.
You will instantly get transparent file tracking. Trace requirements through the numerous stages of development, where you will be able to see if any requirement is still uncompleted, and on the very end show they had been successfully addressed.
Our Traceability Matrix is integrated with Jira, QMS, Project Management, Document Management, making it the core of your DHF and Technical file. It's the backbone of your 510k or CE Mark submission.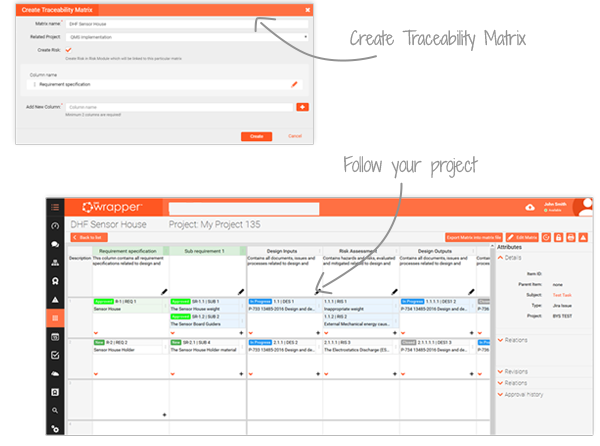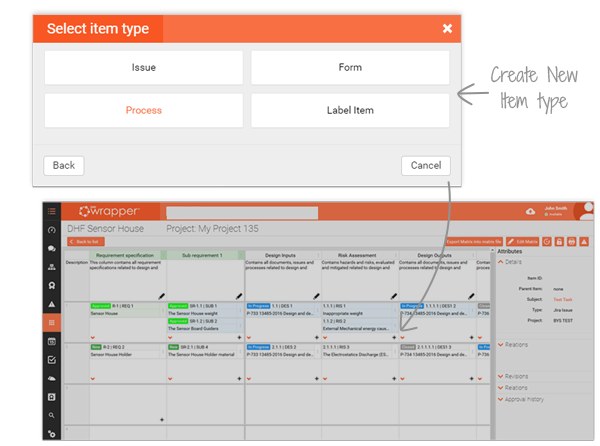 Traceability Matrix is driven with your QMS. The development of your medical device is driven by requirements of ISO 13485 and 21CFR 820. This way you will stay compliant and flexible responding to changes.
Since nobody is solely working on the project, we build the Traceability Matrix multi-user. Now you can work together with your team at the same time on the same matrix.
Achieve your goals, gain absolute control over your project. Quality is now ensured throughout the entire medical device life-cycle!
Awaiting audit? Great, you are ready! Our Traceability Matrix clearly demonstrates to inspectors/auditors the connection between the requirements, its design inputs, validation and verification, risk analysis, etc. No more wasting time seeking the required information, because it's available to you with a single click.
qmsWrapper lets you build a Traceability Matrix for all your medical device regulatory needs.
Integration with Jira
INTEGRATION MEANS BETTER CONTROL
OF THE DEVELOPMENT PROCESS
The combination of Jira with qmsWrapper introduces a system in which MedDev companies are able to track, manage, and organize all CE Technical Files and FDA Design History Files, while enabling software development of medical devices.
Jira platform help teams plan, assign, track, report and manage development projects. But you need much more to stay compliant and to get your device to market!
With qmsWrapper, Jira users can accomplish everything from one place. They will have a complete overview in qmsWrapper of all tasks issued in Jira, and all available functionalities that support your way to compliance! Put differently, Jira is "wrapped with QMS".
All projects created in Jira are visible in qmsWrapper's Project Management Module, hence is easy for you to follow up. Tasks can be organized in the Traceability Matrix which ensures traceability to Design Controls.
This integration will help all medical device companies reduce development risks and increase agile effectiveness, whilst still keeping an eye on quality!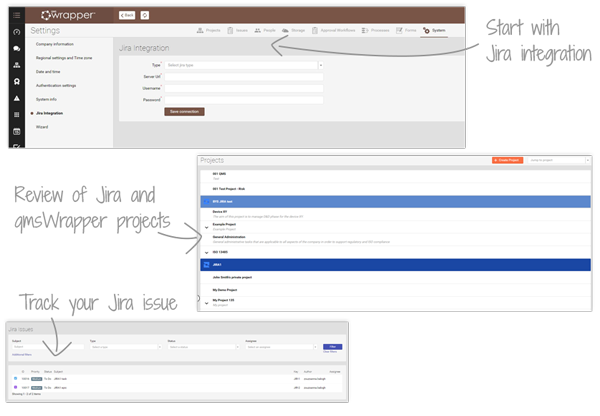 qmsWrapper provides all the essential functionalities for the implementation of your QMS. You can record all quality events like non-conformities, CAPAs or training since this unique software is made to support compliance.
Staying compliant is the #1 priority for all medical device companies— but it doesn't have to be difficult. Jira platform represents a choice for intuitive, streamlined solutions for ongoing Project Management and collaboration, but through qmsWrapper is just the perfect environment for easy Quality Management.
Team Messaging
BUILT-IN TEAM MESSAGING IS DESIGNED TO SUPPORT TEAM COMPLIANCE
You want software that allows everyone in your medical device company to communicate, collaborate and carry on being productive.
Imagine your team, using one software for their documentation, another one for keeping track of their activities, the third one for communication, etc. It could be overmuch to handle, moreover, it can cause further complications during work.
qmsWrapper's chat is a purpose-built Team Collaboration that maintains compliance built into its DNA to help foster and support team based regulatory compliance.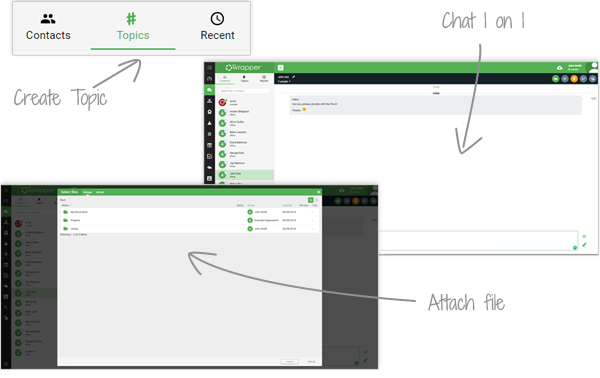 You can have 1-on-1 conversations, group conversations and topic-based conversations, where the threads keep discussions on-topic so the whole story stays together in an effortless way to follow.
You can link your chat discussions to any particular project or task. Save any chat as a meeting to a specific project, complete with meeting minutes, agenda, scheduling, follow-up actions, add special ISO and FDA QSR attributions.
Files shared or sent in a chat are automatically stored in Document Management and can be linked to a particular project. That is QMS compliance made easy!
With all your required tools, including a communication tool, your remote teams will stay productive no matter where they are working from. There is no need to switch from app to app. With qmsWrapper, your team can focus on the essentials and work in real-time to get things done!
Stay focused on your projects, documentation, and QMS issues.
Let's Get The Conversation Started

Contact us today to arrange a free consultation
with one of our qmsWrapper experts.