Cloud based
You can reach your system from anywhere, and at any time.

Innovative
An easy-to-use versatile quality management system built for the modern days.

Secure
Your security is important to us. Everything is encrypted to protect your data.

Real People Support
Real people will answer to you, who understand your real problems.

Scalable
Your company can use it from a start-up phase past an IPO.
Project Management - Make FDA and ISO Compliance Easy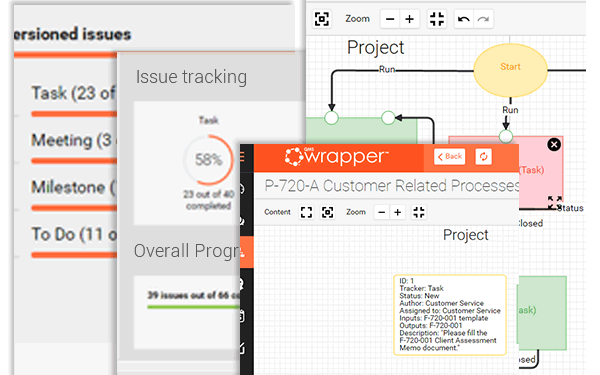 Unlimited Projects
Create unlimited number of projects and subprojects.

One Ecosystem for All Issues
Issues have base types, but any kind of issue can be created. One system for every bug, issue, idea, or feature request.

Powerful Dashboard
A personalized overview of your current activities -projects, tasks, meetings, notifications and more.

Subproject Support
Big tasks can be divided into easily manageable parts, like milestones, tasks and subtasks. The Subproject can inherit all properties of the parent Project.

Integrated with Storage
Automatically stores all of the files, discussions and task pertaining to each project for compliance reasons (QMS and projects follow each other in parallel).

Fully Customizable Roles for Each Project
Any combination of employees can be collected into a workgroup. Users may play different roles in different projects.

QMS, Milestone, Versions
Versions, QMS and Milestones help you organize complex projects, define issues, plan features and establish release dates.

QMS Processes
QMS processes help you to meet ISO 13485 or FDA 510k compliance. These are amazing. They help making you compliant. You need them! Without QMS processes, documentation is just another paper.

Process Editor
Use the Process Editor to either create new Processes or customize existing ones according to your specific needs. Work in a way of compliance.
Quality Management - For Managing Projects and Teams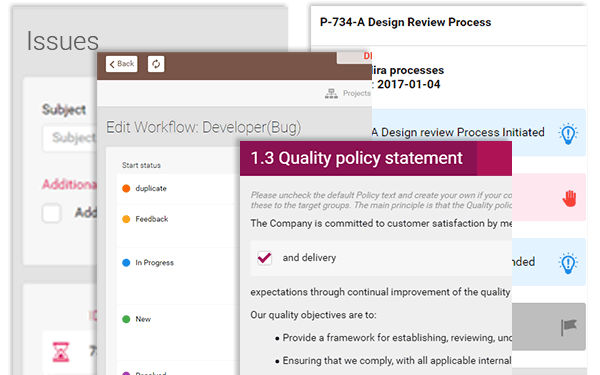 Manage Through Quality
MTQ (Manage Through Quality) is an innovation in management practices that uses project quality endpoints and QMS processes to help senior management provide better project and QMS oversight with no adding another layer of management or interfering.

QMS Processes Driven Project Management
QMS processes drive projects and ensure that Quality objectives, tasks and issues are met, dealt with and tracked to completion. It creates a full circle of follow-up and coordination and enables Team compliance.

Dynamic Reporting
Simply create and share different reports. Dynamic reporting integrates project management through quality management. It inserts reporting points through the process and links them to the QMS form as the endpoint.

Electronic Trail for Data
A signed document now has a date stamped electronic trail, that, if required, can be printed.

Live Workflow Status & Change Control
Easy to check the current status of any document waiting for approval. Simple to verify and approve any document changes.

Fully Customizable Approval Workflows
Create new approval workflow or attach an existing one to meet FDA 510k or ISO 13485 compliance.

Real-Time Visibility
QMS managers can oversee the project progress and QMS progresses without interfering or imposing upon the project manager or the project routine.

Tag Processes
Tagged as a QMS process, various tasks can be followed and backtracked to show what tasks were undertaken to resolve QMS related issues within the context of the Project itself.

Role Based Security
Role Based access to tasks, projects and associated content.
Risk Management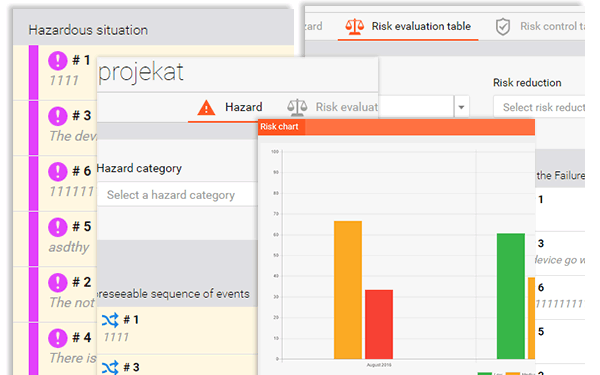 QMS Risk Reporting
After each hazard or risk steps, one qms event is generated and sent to the QMS manager, that can enforce document approval workflows by category.

One system/Statistics for all hazards
All the hazardous situations, categories, harms and statistics are on a single interface, graphically mapped out for a simple overview.

ISO 14971 Templates
Each Risk is defined by a template based on ISO 14971 Standard, that can be modified and tailored to your company needs.

CAPA
CAPA process can be dropped into the project, thereby triggering a special sequence of events required to resolve the QMS issue.

Risk identification
Focuses on uncovering and describing as many of the potential risks associated with the application of your device as possible.

Investigation
Gives the clear view of the desired outcome of the CAPA in use, including comprehensive review of issues regarding human resource, equipment, management, product design, material, manufacturing processes etc.

CAPA Follow Up
A CAPA can be traced back to its origins, yet is reported through the QMS process. Resolution with a signed document, electronic or otherwise, now has a date stamped electronic trail, that, if required, can be printed.

All your RM files available
keeps your RMF documents readily available to update with production and post-production information-so you don't need to reinvent the wheel.

Risk Evaluation
Focuses on comparing your risk analysis results with your organization's predetermined risk threshold.

Analysis
Build a database by collecting production and post-production information throughout your product's lifecycle. With the complete summary of the hazard analysis by its details, it's easy to find the underlying issue of the problem.

Action Plan
Put in place controls to prevent or mitigate an undesired event and leverage those controls to reduce risks before they happen

Flexible System
Every project can have different risk categories with unique CAPA ID's, that helps to make every CAPA record unequally identified and administered for effective follow-up.
Team Messaging App - Managing Projects for Compliance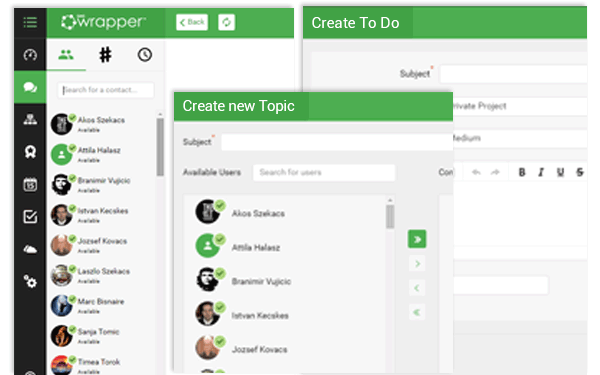 Built-in, Real Time Chat Conversations
The integrated messaging tool helps you stay in touch with your team. There is no need to switch from app to app. Stay focused on your projects, documentation and QMS issues.

Chat Meeting Minutes
Is regulatory compliance an issue? Not anymore! Easily create chat meeting minutes for any project or topic. Designate it as Routine, DHF, QMS, IP, Risk, or Administrative. Initiate the right follow-through and follow-up as FDA or ISO compliance requires.

Create Meetings & Agenda
It's nice to chat, but follow-up is essential for compliance and smooth project running. Schedule follow-up meetings, attach the minutes, create the agenda and invite the right team players in one simple process.

1-on-1 Conversation
A private 1-on-1 chat gives you the way to pick somebody's brain or get fast answers from a particular colleague.

Save Any Conversation
Messages are saved in a chat history and in Projects for compliance reasons. They are available at any point in the future for reference.

Sync with Storage
Files shared or sent in a Chat are automatically stored in Document management, and can be linked to a particular project. (That is QMS compliance made easy!)

Topics
Use a topic based conversation for an ongoing discussion about a particular topic or a specific issue.
Group Conversation
Accomplish complex tasks through campfire, group chats and start brainstorming together.

ToDo button
No pen? No problem! Create a quick ToDo in any conversation and schedule it so you can track it and follow-through.
Document Management & Control – Stop the QMS Paper Chase!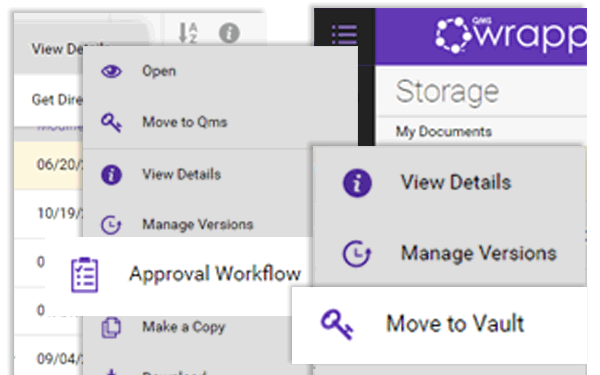 Centralized Cloud Storage
Save all project documents into a cloud repository to ensure centralized and secure storage.

Cloud Viewer
Quick and easy data access, preview your files online without a need to download the document.

Drag and Drop Upload
Upload files with simple drag and drop. It is that easy to include a document in a chat or a project or attach it to a meeting.

QMS Vault
Lock and store QMS Approved Files in the Secure Vault – required for FDA compliance. This, no delete, no change permitted Vault ensures that the integrity of your QMS is never compromised.

Files Stored by Project
You work in projects, so Central Storage stores your files by project. This way users know where to find their files. A document added in a Project related Topic chat, will be automatically saved in the corresponding project directory.

Document Approval Workflows
Allows specific users to review and approve, or decline a file on Storage. Workflows are documented through reports, with full approval history available.

Relate/assign documents to QMS
Storage allows you to move files to QMS Folder, either through a process or include them manually for compliance reasons. QMS files, are stored in the QMS module but viewable in the Storage.

QMS Processes & Documentation
QMS Processes and checkpoints are integrated into the documentation flow to help you streamline your FDA or ISO compliance issues. QMS Processes are the easiest way to help you keep your team on the compliance track.
QMS PIN Signature (ERES).
Electronic Records Electronic Signature (ERES) in accordance with FDA QSR 21 part 11. Secure Unique PINs are used to positively identify the person logged in and doing the approval. It's your secure digital Signature.

Version Control
On every document you can manage versions, use tag options to search and list documents by keywords. Full version history is available.

Private Files Stored in Cloud
Store your private files also in the cloud as part of the same system. It integrates with the WrapperApp.

Desktop Application
WrapperApp is a desktop app that allows you to save documents locally and automatically update them in the Central Storage. Automatically updates and sync your files between your Mac, Linux or Windows PC. Not only does it show your files but also the file directory of the projects you are working on. Project files are protected via Project based permissions.
Central Project Calendar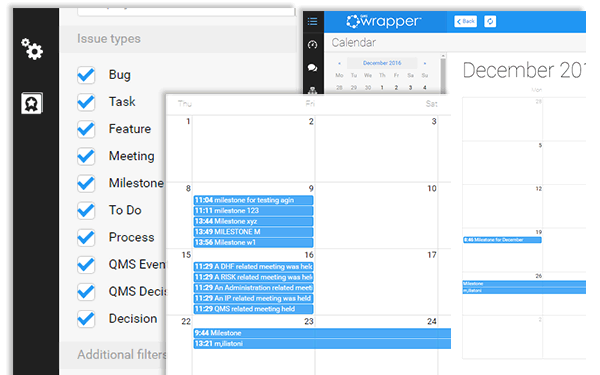 Project Calendar
Project details are shown in a Calendar format, so you can keep track of what's due and coming up.

Gantt View
A detailed visual of your projects at a single glance. Overview activities, tasks and events.

Quality Management Meetings
Schedule QM meetings, bring project members from multiple time zones on a same page. Make meetings more effective with an agenda and create follow-up meetings, tasks and assignments.