Features that will help you with
your Design History File (DHF) and
your Technical File (TF)
Traceability Matrix (TM)
The foundation of your FDA Design History File (DHF)
and your CE Mark Technical File (TF).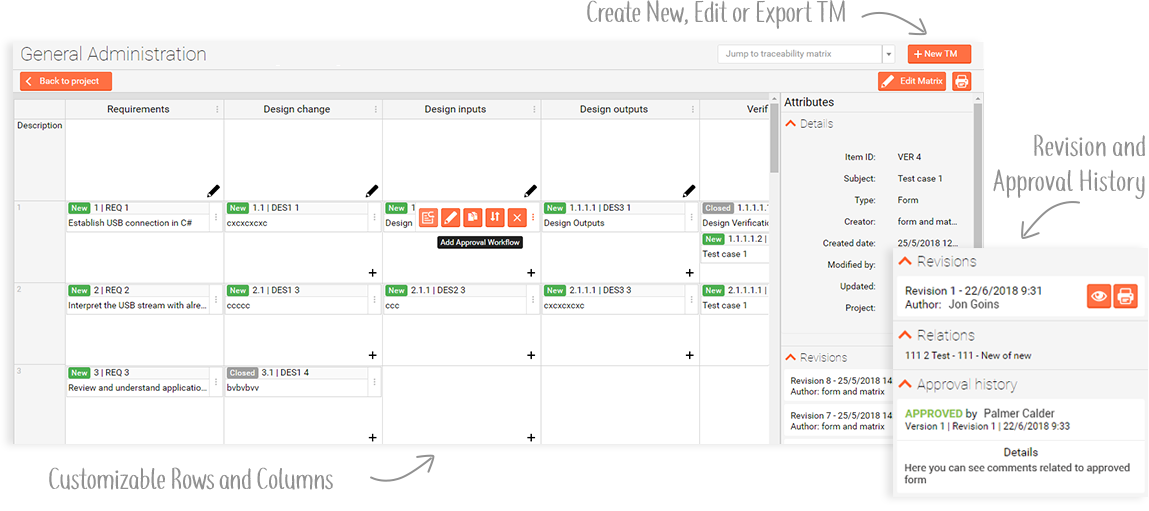 MultiUser
Organize
Organize Your FDA or CE submissions. Every input in the qmsWrapper Traceability Matrix is organized and shows the details, revisions, history and mapped out relations, from the very beginning of the project.
Trace
Transparent file tracking - trace requirements through the different stages and show they had been successfully addressed. Keeps track on implemented changes and gives you better understanding of what kind of changes are needed.
Connect
Connect the dots & docs… Requirements are connected to design specifications, to risk analysis, SOPs, test cases, Validation, OPS requirements, to custom column, etc…
Manage
Get full control of your project! All your CE Technical Files inputs and your FDA Design History inputs, are connected to project tasks, making it easy to complete, easy to update.
Risk Management (RM)
Complete Risk Assessment Aligned with ISO 14971

The Risk Management Module of qmsWrapper includes 5 Steps.
Step 1.
Initial Risk Analysis (IRA). This step has 3 main elements, and in this phase can be linked to specific requirements. In Accordance With paragraph 4.2, 4.3, and 4.4 of ISO 14971, you will define the use context of this design requirement, its potential to create a hazard and estimate the risk.
Step 4.
Risk Control (RC). When the potential for harm is present, then Risk Control is necessary to eliminate or mitigate the risks associated with the hazard.
Step 2.
Hazard Analysis (HA). This is right out of the standard for hazard analysis. It allows you to analyze each requirement that have the potential to be a hazard or contribute to a hazardous situation.
Step 5.
Benefit/Risk Analysis (BRA). (HA). If after everything was done for RC and a residual risk remains, MDD/MDR and FDA require a Benefit/Risk Analysis or BRA. A BRA should verify that the residual risk is acceptable to the manufacture, and whether the patient will understand it and accept it.
Step 3.
Risk Evaluation (RE).In this Step, you evaluate the nature of the risk, determine the cause of the Hazard or failure and its effect.
Document Management and Control
Track, Manage, Store and Bring Company Content Under Control

qmsWrapper Document Management System is designed to support compliance, it includes version control, detailed file histories, file tracking, source tagging, comments, authority control.

User-friendly and team focused Document Management System that works for you, not you for it!
Stamps
Audit trail
Change control
Security file locking
Permissions
Cloud Access - from any device, any time
easy and accessible
on demand scalability
secure and fast access
Document Approval Workflows
Simplify feedback and approval cycles without leaving your platform. Workflows are documented through reports, with full approval history. No confusion, re-work or delays.
Electronic trail and Document Control
Track, store and control documents to prove compliance
PIN Signature (ERES)
Secure and Unique Electronic Document Signatures. Reduce risks, simplify compliance and speed up audits by using ERES and not wasting time on chasing people for signatures.
Quality Management
U.S.QSR (21CFR 820) for 510(K), CE Mark and ISO 13485:2016 Compliance Made Easy

QMS Processes Driven Project Management
Create a full circle of follow-up and coordination for each quality objective, task and issue by driving your Projects through QMS Processes.

MTQ helps to coordinate, control and direct your organization's tasks and activities, to help you not only meet your customer's quality requirements but also your regulatory and compliance requirements.
QMS Workflow Processes
Reduce errors, forgotten paperwork and missed QMS reports through workflow processes that are not leaving any room for guessing what's next, steps are defined, monitored and managed by management automatically.

In qmsWrapper, Quality Management is integrated with Project, Document and Risk management - in other words, QMS is sewn into the fabric of each module.
Project Management
Track, Manage and organize your projects and your teams!

The Project Management module has everything you need to organize, create and manage projects: plan it, track it, discuss it, act on it. Divide projects into manageable parts, subprojects, and tasks.

Versioning, Milestones, Roadmaps and Gantt charts to help you see the big picture and understand the project status.

Organize workflows, schedule releases and track which issues relate to different releases of the product.

With the built-in qmsWrapper Workflow Process Editor, you have the freedom to build your own Workflow processes.
The Dashboard provides a detailed, real-time visual overview of all the users tasks, reports, and assignments.

"My Team" function shows percentage done, reports and assignments.

The Project Management Module is directly connected to the Risk Management Module to ensure ISO and FDA compliance.
Team Messaging
Integrated into all the Modules to Support your Project Development
and Compliance Activities

Track project changes, capture meetings, flag QMS and design changes across all the software modules.

Pick somebody's brain or get fast answers from a particular colleague in a private 1-1 chat conversation.

Connect your teams and accomplish complex tasks through a campfire, group chats.
Execute faster across distributed teams using topic-based, ongoing discussions with the full context of the work.

Meetings Management - schedule, assign and track.

Every message is archived in the history, files shared or sent in chat are automatically stored in the Central Storage and can be linked to any particular project.