Design Controls in the Traceability Matrix
The importance of the Traceability Matrix (TM) tool comes from the fact that it connects requirements and uses cases to design inputs, outputs, testing, Risk Controls, and Risk Management.
And Design Controls can be seen as practices, policies, and procedures that formally govern the design and development process for your product. So how design control works within TM?
Traceability Matrix can be complicated to create, it can take months to put together manually, especially without a proper tool. Creating and maintaining it can be time-consuming and difficult.
With the right tool, a traceability matrix can significantly reduce your project risk, set the foundation of your product lifecycle, and give you full control over your project.
qmsWrapper lets you build a Traceability Matrix for any of your products or even a medical device and its regulatory needs. In that case, it will be the cornerstone of the DHF or CE Technical File.
How to start? Simple! Defining the columns in the Traceability matrix per standard and regulatory requirements. These are the basic stages of the project.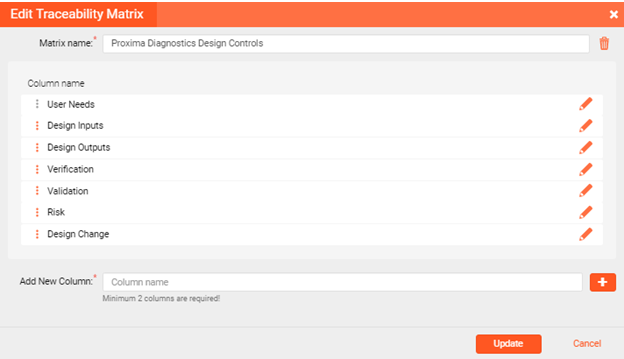 We suggest you start creating a traceability matrix at the beginning of the D&D project. The advantage of this action is visibility over what needs to happen and be addressed.
There are various types of items that can be used for defining the content in the matrix. The user can assign the task to another user from TM, using the "Issue" item. Also, the process can be initiated from the TM, if a certain event should be recorded through a sequence of events.
These items are referenced in the matrix, but all the details can be found in the associated project.
There is a way to directly record the data in the selected template using the "Form" item. Also, the user can reference certain files directly in the TM with the "Label" item.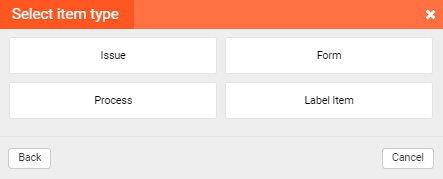 Design Controls and Risk Management are related, so your goal is to prove and demonstrate that your product meets clinical needs, design inputs, and requirements, and what is most important, that your product is safe. So, the risk assessment is a must, and it should be linked with Design Controls. That's why qmsWrapper's Traceability Matrix is designed in such a way so you can put the reference to every identified hazard within it.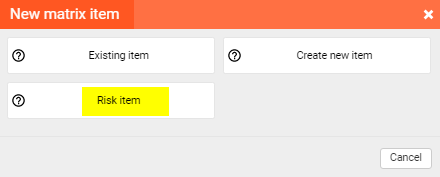 This traceability matrix is representing connections between all of your Design Controls. You can track everything from the beginning to the end. You can trace, from how User Needs links to Design Inputs? From Design Outputs to Inputs? And from Design Verifications to Inputs and Outputs?
And on the very end to see even how do Design Validations relate to User Needs?

One of our best practices is that your design history file must be accurate and should be a "living" document. This means keeping it updated beyond the development phase.
Every input in the qmsWrapper Traceability Matrix is organized and shows the details, revisions, history, and mapped out relations, in the custom data entry form, from the very beginning of the project.
The point is that if the D&D phase is led through TM, then it's easy to follow its status. It helps you see finished phases and what still needs to be done, as can be seen from an example in the picture.
This is specifically valuable when it comes to audits. When you are asked to provide any data regarding your product, you will know exactly where to look for it.
Practically, TM is here for a nice visual organization of your product.
And last but not least important, that TM, where you were developing your product, remains as your Design History File.