How to organize files within the Storage?
Even birds on a tree know that good QMS documentation is essential for effective implementation and maintenance of QMS within an organization. But beginners involved in QMS often think of Document management as something so general that it is required by any industry and by most processes within any business.
OK, but what is document management than effectively organizing files. Document management is how your organization stores, handles, and tracks its electronic documents.
Well, we in qmsWrapper, take Documentation management very seriously. Because a reliable and scalable Document Management system is key to streamlining and automating workflows. We are trying to save your precious time and reduce unnecessary clicks to access any file you need and help you become productive as much as you could be. A clear, easy-to-follow system is essential for it.
In qmsWrapper, the Documentation Management module, called 'Storage' is a centralized data repository for all users in the company. It's cloud-based document storage with a simple way to share and access your files from anywhere, anytime. For increased effectiveness and better organization within Storage, qmsWrapper also offers version control, workflows, access permissions, and backup. That means that project members can view and access the same content of projects where they are members. Users can work together on projects easier and faster this way.
It's also your private document storage and place where project documents of your company are stored.
Having that in mind, you can easily divide QMS documentation from non-QMS related documents. It's always good to establish some rules within an organization when it comes to organizing documents.
That is one more benefit of qmsWraper. It can easily adapt to you, and not the other way around.
The Documentation Management module is connected to the Project Management module. When you create a project, a folder with the same name inside 'Projects' is automatically created in "Storage". To make the work process easier for you, you have the option to click on a button that will immediately show you where your created project is in the Storage.


When attachments are added to an Issue of a project, a new folder is created inside the 'issues' folder, with the subject of the Issue as the folder name. The attached files are being stored in this Issue folder.
Let's use CAPA as an example. This means if you add a certain file that is supporting evidence for defined corrective action for reported non-conformity, that file will be automatically saved under the Storage in the designated project folder.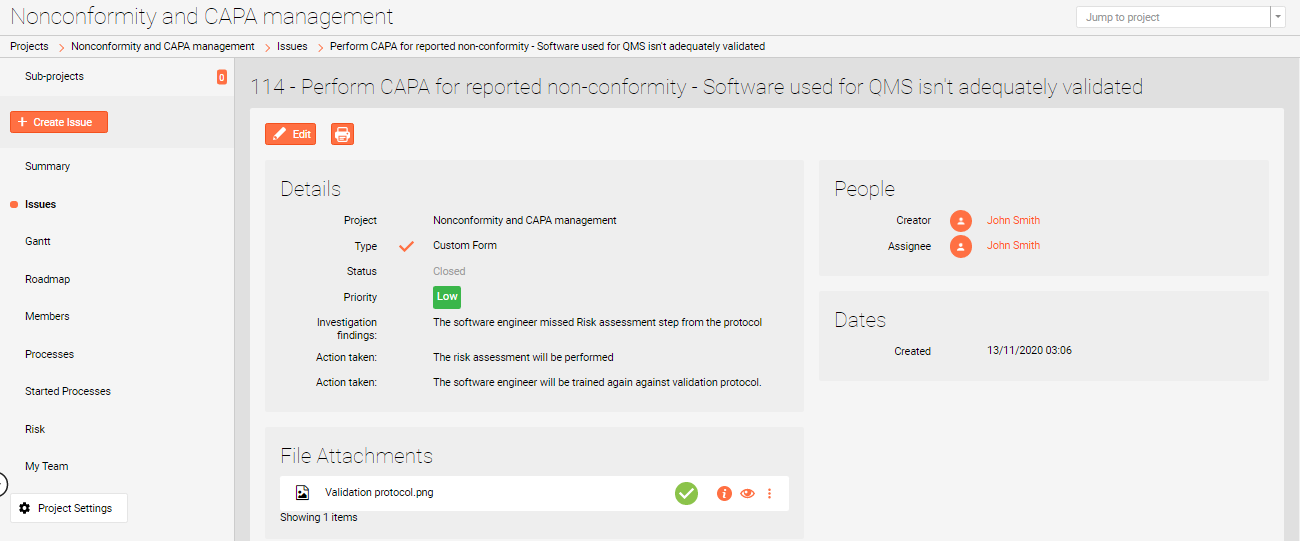 For non-project specific files, we've developed the 'Library' folder.

Only the Administrator user who registered the company can add or delete documents that are in the 'Library' and to create folders. Access rights can be dedicated to other users over the entire folder or a particular file.

Folders and sub-folders structure can be created according to the specific needs. The Storage provides centralized storage for all users in the company.
And don't forget to back up your data regularly.