How to record an event in qmsWrapper?
Unlike the documents, records are created when something is done and you need to record any data or event. It's evidence about the past event. Documents can be revised and changed, whereas records don't (must not) change. If additional facts occur that contradict the old facts (an error), then you should cross out the old fact and record the new fact.
Records consist of any data or events you collect during the operation of your QMS. Quality records are proof that the QMS is being executed and followed.
Now when we have clarified that, now we all know how record keeping can be painstaking and annoying in case of its repeatability but still have to be identified, filed, protected, and controlled throughout their life-cycle.
That's why qmsWrapper integrated Form Editor that will empower your team to build and design forms based on business needs. Forget all those repetitive and time-consuming event recordings and small processes that end up taking an unreasonable amount of time and energy!
So, what you can do in qmsWrapper? You can create a (general, matrix, or custom) form the way you need it and later edit it if needed.
You will exactly know what data to record and how to complete a compliance requirement within its assigned set of project tasks. You will be able to in a matter of seconds record the quality events like non-conformances, customer complaints, etc.
Let's take CAPA as an example: by visiting the CAPA module in the project section, the user can record performed actions selecting 'Create Issue' – 'Custom Form' – 'CAPA' template that you have prepared ahead. You just enter the needed data input fields that you have prepared. You can easily assign CAPA-related tasks to anyone from your team and track the progress to its end. It will be saved on the 'Issues' page, where you have a complete overview of your CAPA events.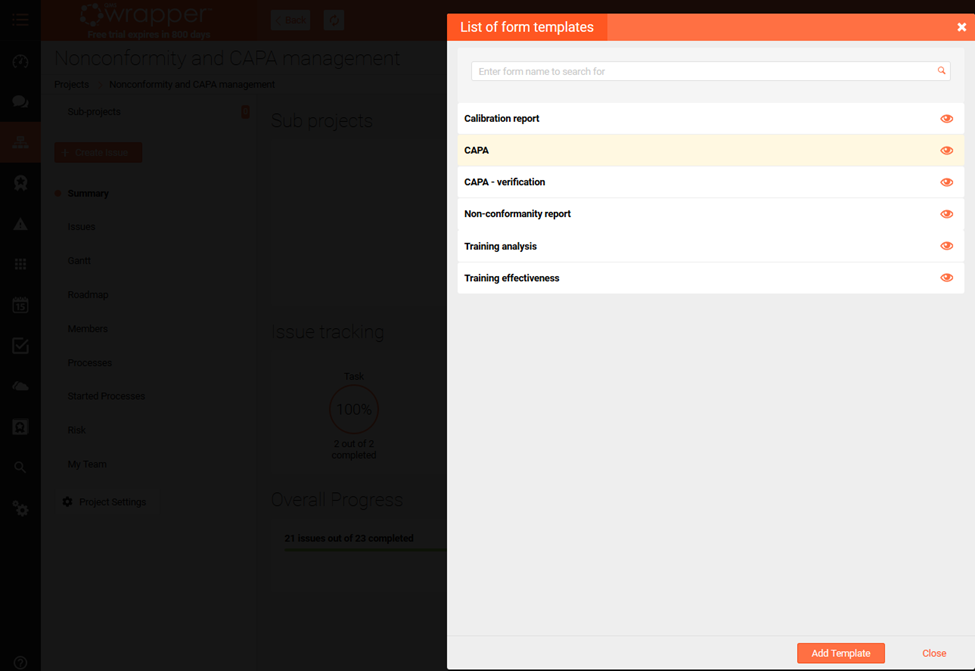 We also provide built-in forms that are tailored to follow quality management requirements. Admin or Project manager users can find them in the 'Settings', under the 'Forms' tab.

Just for your reference, every template is editable. Also, you're provided with the Form Editor tool, so you can build a template from a scratch. As you build templates, before being used under any constructed module, they must be authorized for use (approved by certain users) and set as 'Active'.
Later, when it comes to a certain event, anyone from your team involved can just fill the needed data in the template that you have created previously.
Additionally, long-term retention of data must be done for different regulatory compliance and standards that meet the specifications of the business. Therefore, managing and keeping these records are a must for the success of modern businesses.