G2 Spring 2022 Grid® Reports Name qmsWrapper High Performer Medical QMS System
As the new year started, we're delighted to announce qmsWrapper has been named High Performer in the G2 Spring Grid® Reports.
qmsWrapper started its journey in 2016, it was purpose build by a Medical Device manufacturer to help achieve and maintain standard compliance in the highly regulated industries of life science and pharma.

qmsWrapper is designed to facilitate compliance with standards ISO 13485, ISO 9001, and regulations enacted by the FDA.
As an eQMS provider for Medical Device manufacturers, we understand our customer's varying needs and have designed our solution with the ease of use, out-of-the-box ease of implementation, unparalleled performance and security, scalability, and reliability that all Medical startups crave, and that our customers clearly rely on and appreciate.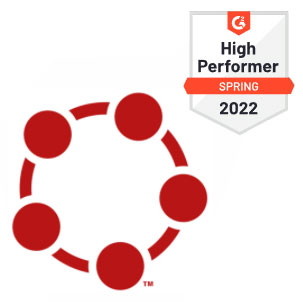 A Champion for Startups
qmsWrapper scored high amongst the sellers in the Medical Quality Management Software Category.
We Value Our Customers and Here's What Our Customers Are Saying About Us:
"It was 'purpose built' for a medical device company (not a generic QMS, or a document management system with a few extensions), it is very "complete", including e.g. a dedicated DMS, Risk management, Interactive Quality Manual, and QMS WorkFlows.
Basically, we could tick virtually all the boxes in our "wish list" for an eQMS system." Thomas T/ Founder MedDev manufacturer
"I think the main benefit is that the system addresses virtually all aspects of a QMS implementation for a medical device manufacturer. If I have to pick one specific module, maybe that would be the Traceability Matrix and the DMS (as we have found many uses of this also outside the main QMS implementation)." Holly W./Sen Metric
"ONE system covers all our needs- easy to use for everyone in Miridia Tech." / CEO Adrian L.
"I know we are working with a VALIDATED system that helps us achieve ISO 13485:2016 certification. The Notified Body was impressed of the structure of the documentation during the audit. After the audit was completed, "unofficially" the auditor told me that he saw this as a huge step forward for us as a company." Anders B. /CEO K-Med
"Basically, we felt that we had not only found a software that most likely would serve us well but a "true partner" that could support us not only during the implementation/migration but also during various QMS related matters moving forward." Sue B/ CEO Calon Cardio
"The developer was supposedly a medical device manufacturer themselves. I felt that the fact that the developer had this direct experience as a manufacturer was promising, as he would most likely have faced similar challenges as we do. " Dan L. / CEO Realize Medical
"The support provided by the team at qmsWrapper is second to none, they are always there on hand to listen to feedback, provide training when needed and help with improvements wherever feasible." Vicky/ Simple HealthKit
"The Design Control Matrix allowed us to create highly compliant DHF with limited resources. Our 510(k) was cleared in no time!" Mohney K. / CEO LV Corp.
Your Feedback Strengthens Our Product!
Inspired to leave a review of your own? Tell us about your experience with qmsWrapper on G2.