How to stay on top of your product development and easily organize your FDA and CE submission
Traceability is required by regulations.
Traceability Matrix Updated 2019,
For FDA, 510(k), DeNovo or PMA, traceability is required as part of your Design History File (DHF). Soup to nuts, they expect you to demonstrate how it is all connected, where and how requirements were met.
For the CE mark, the requirements are similar, if not the same!
Failure to provide full traceability of documentation is one of the FDA's top 5 violations.
A non-compliant FDA or CE audit is costly, no matter who you are… small or big, but especially if you're a startup.
"Failure to adequately document design input requirements as required by 21 CFR 820.30(c)…your firm did not define and document clear, appropriate design input requirements..."
Another costly mistake is to assume that an FDA inspector will review only the recent design history files and not the whole history, documented history. You need to document everything, from the beginning to the end of the project. Every document needs to show the details, approval history, revisions…
"Failure to establish a Design History File, as required by 21 CFR 820.30…. your firm has no Design History File (DHF) for the device prior to this version of the device and there is only one (1) DHF record post."
So, how to avoid disaster?
Traceability Matrix can be very difficult to create, it can take months to put together manually, especially without a proper tool. Creating and maintaining a TM can be time-consuming and difficult not to mention all those messy spreadsheets and ongoing updating struggles! And be real, nobody is going to help you!
With the right tool, a TM can significantly reduce your project risk and set the foundation of your product lifecycle – not to mention make your job easier and put you in control of your project.
qmsWrapper™ lets you build a Traceability Matrix for all your medical device regulatory needs. It will be the cornerstone of the DHF or CE Technical File.
Every input in the qmsWrapper Traceability Matrix is organized and shows the details, revisions, history and mapped out relations, in the custom data entry form, from the very beginning of the project.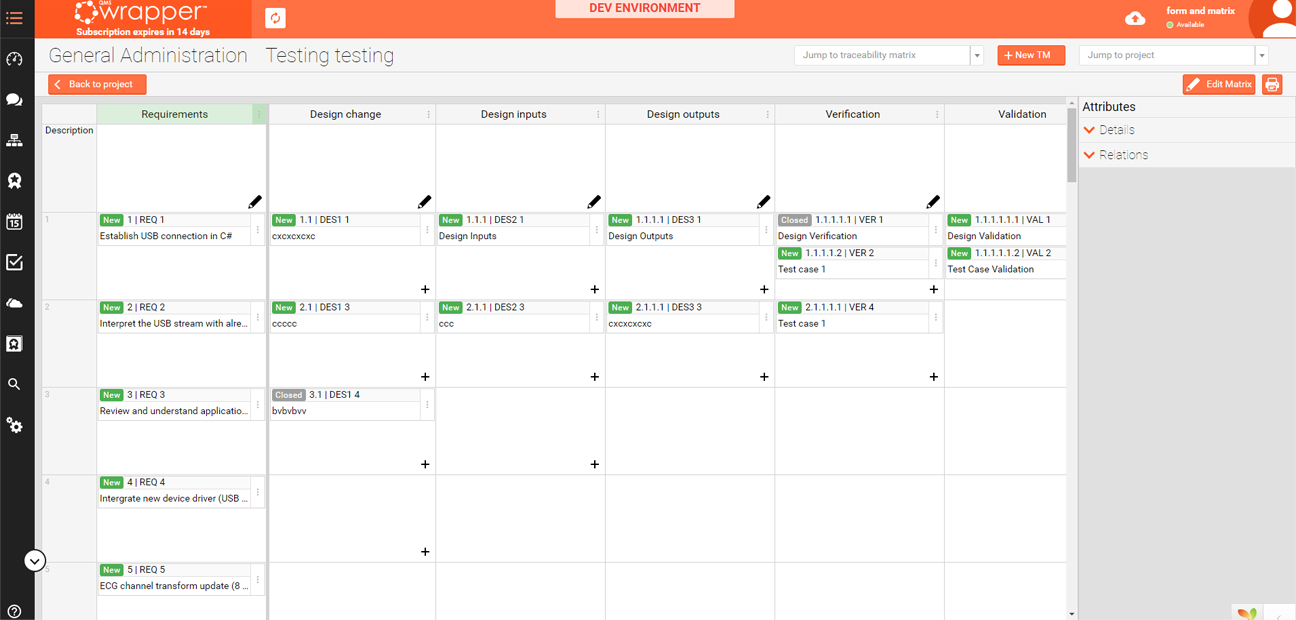 From user needs to devise requirements, specifications, testing, anything you wish to add, qmsWrapper™ lets you easily create a fully integrated and interconnected Traceability Matrix.
The Traceability Matrix in qmsWrapper™ is fully integrated into the project and quality management. It supports linked documents in storage and allows you to use qmsWrapper's customizable forms to create custom verification and validation testing documents that will link, track and show the connections between each.
You'll never start another device project without it again. qmsWrapper Traceability Matrix will make your regulatory life a lot easier.
And when it is time to make your submission, you can print it or export it at any time of the project, not just the TM table, but all the attached and related files and documents, from user needs, to device requirements, to specifications, to testing, to validation, and anything you wish to add to your TM.
Prove your claim that you follow recognized industry practices for validation, with qmsWrapper Traceability Matrix.
Build your Traceability Matrix as you develop your product… on the go
Key Functions of qmsWrapper Traceability Matrix:
Powerful document control
Connect documentation to processes
Integrated and synchronized with the project
Define all requirements you need for successful completion of your project
Export into a print-ready format for your FDA submission
Reduce project risk
Documentation is connected to approvals and version control
Easy maintenance
Integrated to Risk control
Integrated to Change control
The cornerstone to your Life-Cycle processes.
End to end traceability
Adequate record keeping is one of the most important parts of regulatory compliance. So organize it!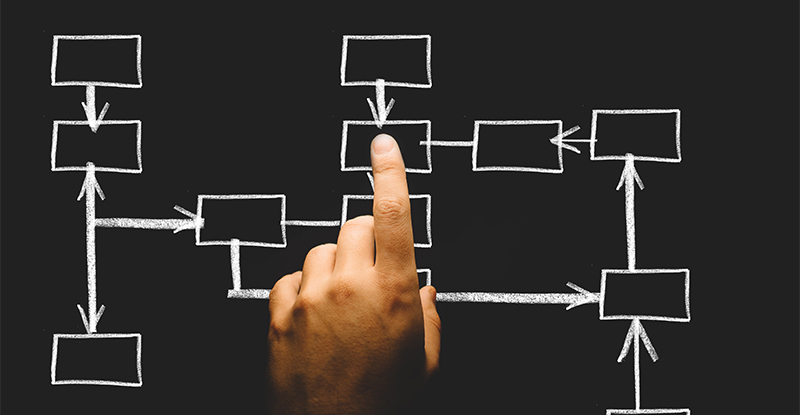 Demonstrate that design was developed in accordance with an approved design plan and the requirements of 21CFR 820
With qmsWrapper Traceability Matrix, you will be able to look way back, at the very beginning of the project and to be sure and confident that you delivered all the requirements.
Do not underestimate the power of the Traceability Matrix, if it becomes part of your and your team's everyday work, it will for sure be one of your most loyal tools in the process of getting FDA clearance.
Some benefits of Traceability Matrix
Be compliant with the regulations, not because it is FDA mandated, but because it makes good business sense, and helps you from going crazy!
See qmsWrapper and Traceability Matrix in action. One of our qmsWrapper experts would love to give you a live demo.