Meet qmsWrapper's Project Manager and find out more about new features
qmsWrapper is a successful company promoting the organizational framework that provides structure to the processes, policies, procedures, and resources to implement the Quality Management System for medical device startups. Behind every successful company stands the skillful team. But the key role of such a team that leads to success is someone who is organized, passionate, and goal-oriented who understands what projects have in common. Their strategic role is in how organizations succeed, learn, and change.
qmsWrapper is happy to introduce you to its Project Manager, Milica Nikolic. When you read 'till the end of her answers, you will have a clearer picture of the reason for qmsWrappers success.
Q: To start with, Milica can you describe a typical day in the life as a project manager at qmsWrapper, and perhaps one of the challenges that would you highlight?
I would describe it as fully interactive, from the beginning until the end of the working hours. Our team is a unique combination of creative and strong people full of new ideas that have to be sorted out, including its implementation in the fastest and most quality way. Regarding challenges, I would highlight that part when I need to convince the development team that they can fulfill the requirements in less time then they recommend. Sometimes it is effective, but there are days when this tactic is not so powerful.
Q: qmsWrapper has increased its sale. Did you're joining the team contribute to that?
Our team had a good response in sales all the time, yet when one more head came in the team, it was simply providing new ideas from different perspectives. Team has recognized it and with a lot of brainstorming, we have faced the new challenges. Those challenges have made us fight more in order to achieve our highest goal – more customer attention and more satisfied users.

Q: Do you feel the impact of COVID-19 on how you perform your job, and if you do, on what level? Knowing that qmsWrapper also works with remote teams, how did you manage that in these times?
Since my job depends mostly on coordination between team members it is much easier when I work from the office, although it would not be such a big problem if we switch to work from home. As it is in everyday life, humans find it easier to resolve or make it more understandable face to face, some small problems that can run into during the day.
With remote teams was uneasy at the beginning since that kind of work is not our routine, so we needed to find a way for the most progressive outcomes. Luckily Wrapper's Chat option combined with meetings has helped us to overcome potential communication problems, and the team was still kept up with deadlines.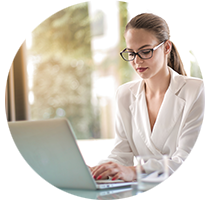 Q: How do you prioritize demands?
Depends on demand; where is it coming from. If it comes from a customer, those tasks are priorities. We do a weekly release, so neither task will be too long on standby before it changes the status to Resolved.
On the other hand, our team has a weekly meeting, where the Customer Support team has a chance to present current issues in the software, but the requested features by our customers as well. Once we make a list of the tasks and find out from our developers how complex requirements are, then it is easier to manage the requirements by priority. It is easy to follow up, since reporting about progress is required in next week's meeting, where we do a brief update of the previous topics.
Q: Suppose you find a bug in production; how would you make sure that the same bug is not repeated again?
This one is a hard one. Bugs that are resolved, are having after testing, most of the time it's not possible to reproduce it again. Our team is using the software all the time and we are very aware of the critical ones.
Q: What are some helpful tools you use to make your job more productive?
It might sound funny, but our Traceability Matrix is the main tool I am using. Proved to be best for following team tasks and progress. It combines our agreements, progress of tasks, and final result. So, from my point of view, that one is most important and most used.
Q: What's the best thing about your job?
I would say flexibility, I'm not a 'chef' but yet everyone likes it when they have somebody else to give them that one little push and show them where to focus at that certain moment. I like to motivate them with my way of thinking, and that is there is always a solution, and that there is no place for worries that something cannot be done. I like to hold a positive atmosphere without pressure, but yet with a clear idea of the timelines.
Also, I really appreciate the ability to research and learn more about the usefulness of software in everyday life.
Q: Would you share your vision of qmsWrapper with us? Can you share what present and future customers can expect from qmsWrapper?
The way I perceive it is that we are trying to help our present and future clients understand their requirements as they are intended. Our goal is to assess, formalize, implement, and introduce a structured, simplified, effective quality system for maintaining their medical device. Clients get no more or less than they would benefit from.
When we come to expectations, I am delighted to say every potential client can expect a lot since we are kinda addicted to an innovative approach for improving QMS. I am really proud I can say that. Momentarily, we are releasing a new Custom issue form feature that will make life easier for every qmsWrapper user. It's something that probably everyone actually wanted to have as a function, and soon you will know much more about it.

Conclusion:
qmsWrapper always strives for excellence. FDA Clearance, CE Mark, or ISO certification is not only a serious commitment to your medical product but also to the quality of that product. We help you both organize and manage the development of your product and also to keep your commitment to quality.
Our team built it to support your creation of safer medical devices and get it to market faster. It helps you organize, manage, track, cooperates, and speed up the product certification process.