qmsWrapper Recognized as a High Performer and "Loved" by Users on G2
We at qmsWrapper are pleased to report that, as a result of the enthusiastic comments and support from our customers, we have obtained four badges on the G2 website. These certificates prove our team's commitment and effort in producing the most effective Quality Management System software imaginable.

First, the Europe Regional Grid Report awarded us the High Performer badge, indicating that we have high consumer satisfaction ratings.
Furthermore, we received the High Performer badge in the Medical QMS and Quality Management System areas. This demonstrates our know-how and dedication to offering first-rate answers in these fields.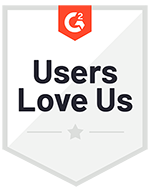 We also received the High Performer Small-Business badge, demonstrating that we consistently outperform competing small-business goods in terms of customer satisfaction.
Last but not least, we received the Users Love Us badge, which is given out when a user gives a positive review. (stars). This badge demonstrates our commitment to offering top-notch customer service and attending to our client's requirements.
We would like to truly thank all of our loyal customers who have supported us and been a part of the qmsWrapper family for so many years. We are happy with our team and the way we developed in order to earn these awards. In order to offer the finest QMS solutions to our clients, we will keep updating and improving our software.
Companies interested in discovering what makes qmsWrapper effective at meeting its customers' needs can schedule a demo with our experts.