What is medical devices lifecycle
The Medical Device life cycle is considered a development of the product, from the very beginning to the end. What is the beginning, what is involved in the middle, and what is considered the end will be explained in this article.
Typically, the medical device life cycle starts with an idea. The Idea maybe for a new means for patient treatment or a new diagnostic or monitoring device, or a device with many different purposes for better health care.
The medical device market place is very competitive nowadays. Making sure that product development meets all regulatory requirements is most important.
From beginning to the end
The actual life cycle of medical devices starts in a manufacturing facility, and later on, if everything is done right, it ends up to the end-user.
Generally, we could say that it consists of the design control process, development planning, design input and output, design review, design verification, and validation, design changes, which become your design history file.
The life cycle of a medical device is usually split into six separate parts, with unique regulatory requirements that apply in each phase:
Phase - Initial evaluation of possible development of a medical device
Phase - Definition of design input based on customer needs and technical requirements
Phase - Development of product design and of the manufacturing process, verification and validation
Phase - Final validation of the manufacturing process and preparation for product introduction
Phase - Regulatory approval, Sales & Clinician training, Launch the product to market, Individual country reimbursement approval
Phase - Post Market Surveillance, Post-market clinical follow-up, Complaints, and Adverse Events, Product improvements, External body audits, Market performance, New-market launches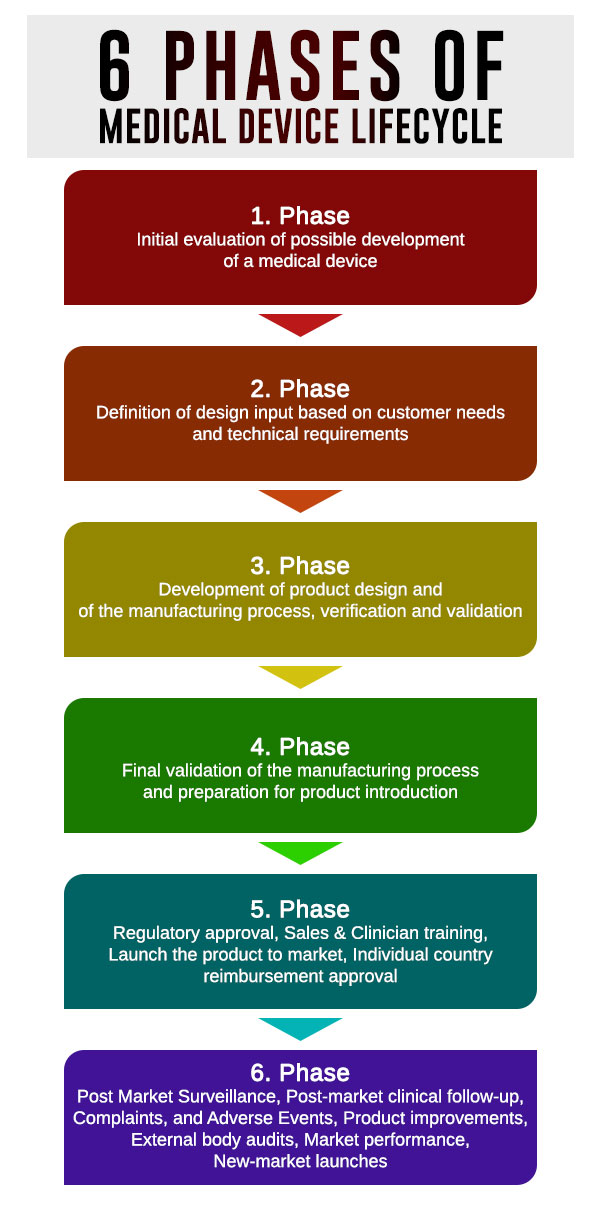 Classification
Medical devices are classified based on associated risks and established Mode of Action.
An important distinction and critical element of any design control that defines a product life cycle is that it can play a critical role during a medical device audit or for demonstrating design-control compliance.
Such a classification determines the conformity assessment route and applicable regulatory/clinical/quality requirements.
Medical device classification is key in the determination of the proper regulatory path that will ensure that the device will meet safety and other standards in a specific country. Devices that do not undergo the complete product life cycle from innovation to post-marketing cannot expect their products to be released into the general population.