ISO 13485 implementation: Mandatory documents and records
Preparation of the QMS documentation is based on the organizational needs, and it is crucial for an efficient QMS. Besides, correctly organized documentation will make operations much easier.
The purpose of QMS documentation is to provide a clear framework for the company's operations and a better understanding of the QMS, and finally to show the evidence of accomplishing the company's goals and objectives.
This is the list of documents and records needed for compliance with ISO 13485:2016:
4.1. General requirements
Clause 4.1.1: Roles undertaken by the organization under applicable regulatory requirements
Clause 4.1.6: Procedure and records for the validation of the application of computer software
Clause 4.2.2: Quality Manual
Clause 4.2.3: Medical device file
Clause 4.2.4: Procedure for document control
Clause 4.2.5: Procedure for record control
5. Management responsibility
Clause 5.3: Quality policy
Clause 5.4.1: Quality objectives
Clause 5.5.1: Responsibilities and authorities
Clause 5.6.1: Procedure and records for management review
6. Resource management
Clause 6.2: Procedure for training
Clause 6.3: Requirements for infrastructure and maintenance activities
Clause 6.4.1: Requirements for a work environment
Clause 6.4.2: Arrangements for control of contaminated or potentially contaminated product
7. Product realization
Clause 7.1: Process for risk management in product realization
Clause 7.1: Outputs of product realization planning
Clause 7.2.2: Records of the results of the customer requirements review and actions arising from it
Clause 7.2.3: Arrangements for communication with customers
Clause 7.3.1: Procedure for design and development
Clause 7.3.2: Design and development planning
Clause 7.3.4: Design and development outputs
Clause 7.3.5: Records of design and development review
Clause 7.3.6: Design verification plans, results, and conclusions
Clause 7.3.7: Design validation plans, results, and conclusions
Clause 7.3.8: Procedure for transfer of design and development outputs to manufacturing
Clause 7.3.9: Procedure and records for control of design and development changes
Clause 7.3.10: Design and development file
Clause 7.4.1: Procedure for purchasing
Clause 7.4.1: Criteria and records for evaluation and selection of suppliers
Clause 7.4.3: Record of verification of purchased product
Clause 7.5.1: Record for each medical device or batch that provides traceability
Clause 7.5.2: Requirements for the cleanliness of the product
Clause 7.5.3: Requirements for medical device installation and acceptance criteria for verification of installation
Clause 7.5.3: Records for medical device installation and verification of installation
Clause 7.5.4: Procedure and records for servicing of the medical device
Clause 7.5.5: Records of sterilization process
Clause 7.5.6: Procedure and records of production and service provision process validation
Clause 7.5.7: Procedure and records for validation of process for sterilization and sterile barriers systems
Clause 7.5.8: Procedure for product identification
Clause 7.5.9.1: Procedure for traceability
Clause 7.5.9.2: Records of traceability and name and address of the shipping package consignee
Clause 7.5.10: Report on changes on customer property
Clause 7.5.11: Procedure for preserving the conformity of product
Clause 7.6: Procedure for monitoring and measuring
Clause 7.6: Record of calibration
Clause 7.6: Procedure and records for validation of the application of computer software used for monitoring and measuring
8. Measurement, analysis, and improvement
Clause 8.2.1: Procedure for customer feedback
Clause 8.2.2: Procedure and records for complaint handling
Clause 8.2.3: Records of reporting to regulatory authorities
Clause 8.2.4: Procedure for internal audit
Clause 8.2.4: Records of audits and their results
Clause 8.2.6: Identity of the person authorizing release of product
Clause 8.3.1: Procedure and record of control of nonconforming product
Clause 8.3.4: Records of rework
Clause 8.4: Procedure and records for data analysis
Clause 8.5.2: Procedure and records for corrective action
Clause 8.5.3: Procedure and records for preventive action
Take in mind that some of the documents won't be mandatory if the company doesn't perform relevant process.
So, QMS will contain a variety of documents, that can be the group into the following (with its respective hierarchy):
Quality Manual
Quality Policy
Procedures and Work Instructions
Quality Plans and Records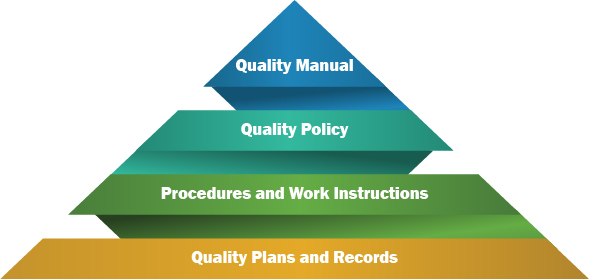 A quality manual is a document that states the company's intentions for operating the processes within the QMS.
A quality policy is a document developed by management to express the directive of the top management with respect to quality.
The term quality procedure refers to the approach used to achieve the goals set by the quality policy.
Work instructions cover the same elements as a procedure but providing greater detail about the activities that should be achieved.
Records provide evidence that a process is in place and performed according to the procedure or work instruction, and that a certain event happened.
A well-structured document system guarantees quality standard is met, reduces the possible errors, reduces downtime when deviations occur due to being able to rapidly access relevant data and allows easy monitoring of the processes. It will improve organizations' efficiency ensuring that its QMS has a strong foundation.