What is considered by QMS planning in ISO 13485 – Lesson 5
This part of the standard explains why is planning so influential. Because without planning it's impossible to build quality into your medical device and company since the start. It's necessary to plan in such a way to ensure your QMS will be and remain effective. One of the ways you can assure that is through setting quality objectives/goals.
When planning, there are two things to keep in mind:
1. Formulate quality objectives
2. Plan quality management system
Purpose of Quality Objectives
Quality objectives are specific, measurable goals. They are like transitional steps to realistically achieve specific goals listed in your quality policy and defined statements for planned improvements.
Its purpose is to directly impact on QMS effectiveness because, without quality objectives, medical device company cannot promote some of the ISO 13485 Standard primary goals. The objectives are shaped for every level of the company, including a single objective for the QMS as a whole, and individual objectives for each process or product that supports it.
It's really important to make quality objectives measurable and well-defined. The objectives created for products or processes are known as Key Performance Indicators, they represent the main indicators for showing that individual processes are working as planned, and it helps in the measurement of the general QMS objectives.
Key Elements of Quality Planning
Planning is here to help you to determine how those objectives will be achieved. Quality plans are carefully documented plans that outline quality policies, procedures, SOPs, and guidelines for projects and/or facilities while establishing quality expectations and metrics. It's frequently considered a critical phase in the design of the ISO 13485.
But do not worry, by choosing the right eQMS software you will be led in the appropriate direction.
When you do quality planning, make sure it included all the relevant aspects and parts, such as design and manufacturing, sales, service, and customer support.
To make it even easier, qmsWrapper provides you various ready to go templates that are defined per ISO 13485 requirements!
To further more improve flexibility, they are editable if necessary.
Of course, the "Quality Plan" template included.
Quality plans are usually written with a concise, explicit scope and sometimes are used as a checklist. That's an effective way to ensure that a process or project is meeting set quality requirements.
Quality plans generally include information on:
• Introduction of the project or process with included all possible details
• Organization chart, including external vendors
• Described responsibility for each team member
• List of the qualified supplier and standards for they have to meet before than bid on a contract
• Quality control procedures
• Audits
• Training
• CAPAs and person responsible for these actions
• Required notification and all other references including performance rating or performance report.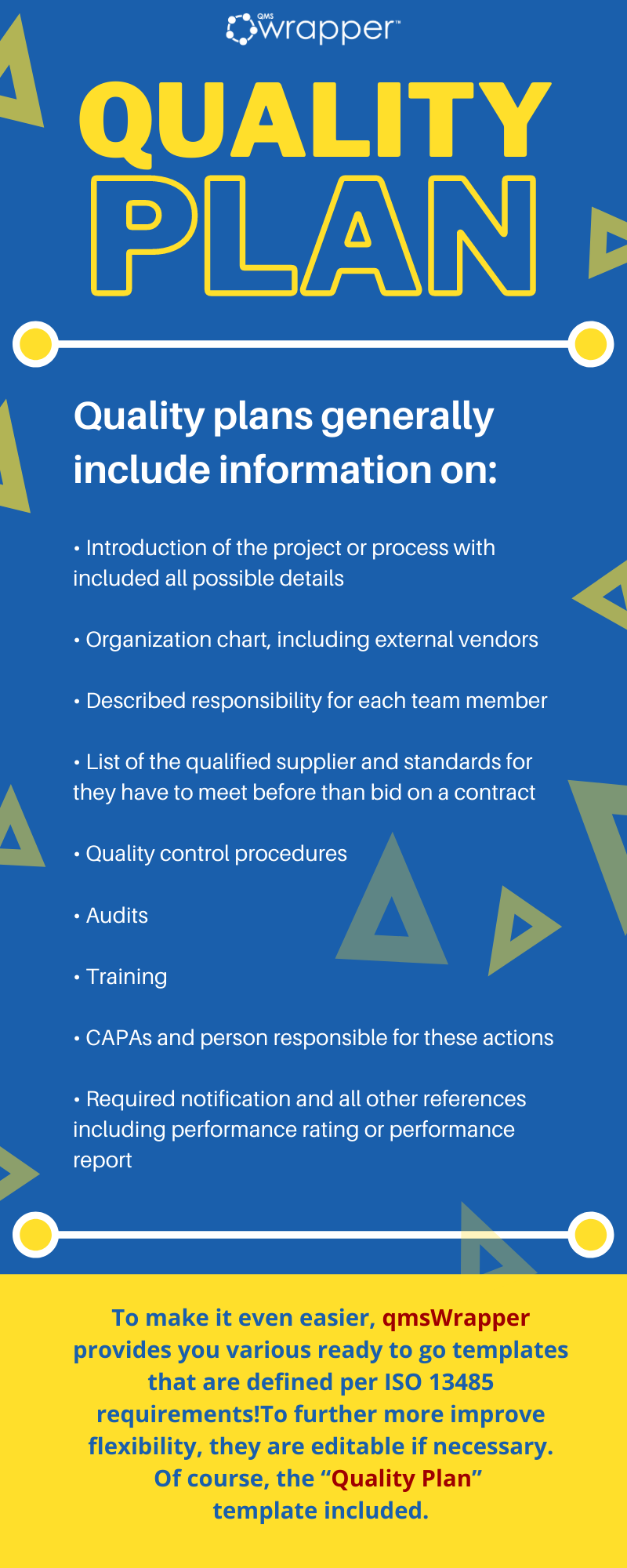 PREVIOUS LESSON NEXT LESSON ALL LESSONS