The Purpose of a Quality Management System
Small businesses typically face a struggle to succeed in a competitive MedDev marketplace. Companies that offer quality services or products are better positioned to not only survive but prosper. A well-managed QMS is paramount to success.
What is a good Quality Management System?
QMS systems come in all flavors and shapes, some are industry-specific, others more general, a.k.a. tailorable. The most common are based on some kind of PDF document tracking system.
The best QMS systems, or most effective QMS systems, take a more inclusive approach to business processes, combining ISO compliance with team collaboration, workflows, document and project management. The advantages to such integrated QMS systems is that ISO compliance is not limited to "reporting" or the tracking of reports to prove the quality, but rather is integrated into your workflow processes directly, so quality becomes everyone's business throughout the workday.
This "all-in" approach to quality and ISO compliance eliminates the need for multiple software applications and separate quality systems.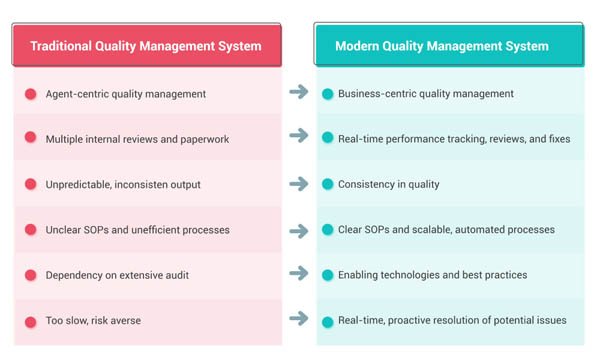 "We invented qmsWrapper because we needed what you need: a system to help get your projects done in time, and stay FDA or ISO compliant."
In qmsWrapper, Quality Management is integrated with Project, Document and Risk management rather than merely bolted-on or implemented as a separate management layer - in other words, QMS is sewn into the fabric of each module.
They exist both as separate modules so you can work within each as needs arise, but also they exist as highly integrated and interconnected to maximize productivity and provide a seamless team based compliance experience.
There really is nothing like qmsWrapper. This is Innovation!
MTQ and QMS
The idea of MTQ (Managing Through Quality) is that quality is not simply the score by which the winner of the game is measured, it's also the rule by which the game is played.
"MTQ is not purely a QMS, it's also a more effective and efficient way to manage your QMS"
MTQ helps to coordinate, control and direct your organization's tasks and activities, normal or QMS related, to help you not only meet your customer's quality requirements but also your regulatory and compliance requirements.
MTQ supports a team focused approach to QMS, ensures everyone works together towards desired quality outcomes and fosters a culture of team based compliance.
Everyone is involved!
By fostering team based approach to compliance, qmsWrapper workflow processes can reduce errors, forgotten paperwork, missed QMS reports, your team is not guessing what to do next for compliance, it's defined for them, monitored and managed by management automatically.
The continuous improvement, tracking and measuring of your operations inevitably leads to an increase in productivity and efficiency.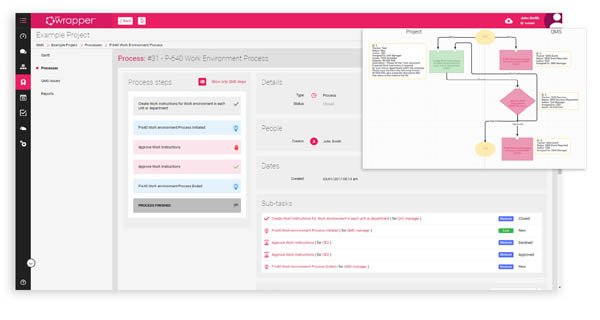 Benefits of qmsWrapper Quality Management System
Quality managers with little experience or knowledge of the supported Standards, can easily step into the role and effectively start. qmsWrapper provides a step by step sequence of tasks with appropriate explanations and cautions to help correctly perform quality manager's tasks.
MTQ (Manage Through Quality)

- an innovation in management practices that uses Project and QMS workflow processes to help senior management provide better project and QMS oversight without adding another layer of management and bureaucracy.
QMS Processes Driven Project Management

- Defined QMS Workflow Processes can jump-start your project—they make ISO 13485 and FDA QSR compliance easier. (ISO 9001 coming soon)

Tagged as a QMS process or milestone

, the various tasks can be followed and backtracked to show what tasks were undertaken to resolve QMS related issues within the context of the Project itself. It creates a full circle of follow-up and coordination, fostering collaboration and continuous improvement.
Built-in Workflow Process Editor - gives you the freedom to build your own Workflow Processes to suit your specific project or QMS needs.
Role Based Security

- ensures specified access to tasks, projects and associated content. Documents are controlled and stored according to their respective projects. Teams know where to find things.
Real-Time Visibility - real-time visual overview of all user tasks - percentage done, reports and assignments. Monitor who does what with what efficiency. Instantly identify any overlaps in the work and easily reassign tasks as needed, follow the over-all productivity and keep track of milestones, QMS issues, deadlines, upcoming events, to-dos and due dates at a glance.
Electronic trail for data - A signed document, electronic or otherwise, now has a date stamped electronic trail, which if required, can be printed.
With the QMS Approval Workflows

automatic notifications are sent to the QMS Manager for approval. They are fully customizable - Create new approval workflow or attach an existing one to meet FDA 510k or ISO 13485 compliance.
Mirrored Projects in the Project Management Module are mirrored in both the Document Management Module and in the Quality Management module. This mirroring creates a simple way for the QMS Manager to follow, monitor and track all QMS events in and for any project.
Built-in Team Messaging

- Purpose built and designed to support Team compliance. There is nothing like it! Chats and chat files are actually linked into particular projects or tasks - the simplest way to document any issue and save any Chat as a meeting to a particular project, complete with meeting minutes, agenda, scheduling, follow-up actions, add special ISO and FDA QSR attributions. Remain one step closer to full compliance.
Risk Management

.

The Project Management Module is directly connected to the Risk Management Module to ensure ISO and FDA compliance.
qmsWrapper fosters a team collaboration based approach to FDA 510k and ISO 13458 compliance - for better project productivity!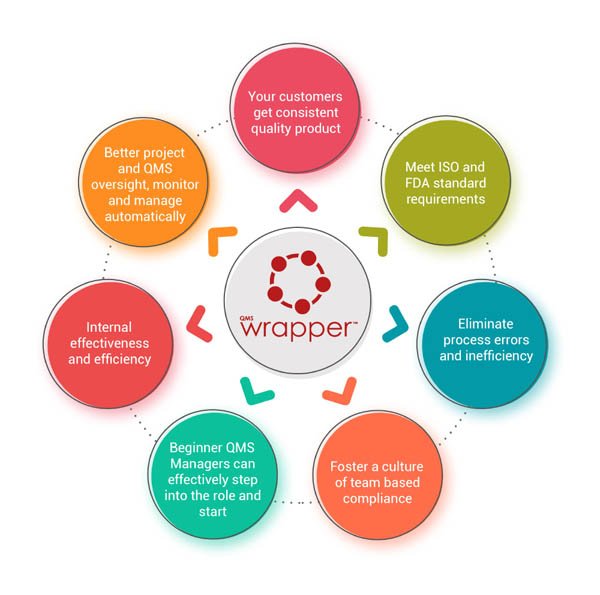 Summary
Implementing a quality management system affects every aspect of your organization's performance. qmsWrapper is a holistic, flexible and scalable solution, created to address any organization's unique needs.
With overarching benefits and advantages like helping to communicate a readiness to produce consistent results, preventing mistakes, reducing costs, ensuring that processes are defined and controlled, you are continually improving your organization's offerings.
Your QMS controls will have a direct impact on your design outputs, as well as your verification and/or validation activities.
qmsWrapper solution offers a full circle of QMS.
If you're ready to get serious about your quality management and product development efforts, qmsWrapper is your solution.