Top 10 MedDev conferences and summits to attend this year 2020
Conferences, summits – why are they so important
Well, there are many reasons to attend a conference. Regardless of the current COVID-19 outbreak, this does not mean that you shouldn't plan the next step for growing your business. One way of growing your business is by attending conferences.
If you are attending, it's more likely that you are gonna hear something about some latest research and get to know other people in your field. It's also a great opportunity for networking.
In general, conferences are here to gather like-minded individuals from across the country or across the globe, to learn, discuss thoughts, network, share ideas, create new ideas, and to ignite motivation.
We have carefully selected 10 for you:
At the FDA/Xavier MedCon Conference, global regulators and medical device manufacturers engage to increase speed to market and product quality through innovation.​

With 300+ speakers and 3,000+ attendees, the Medtech conference is one of the largest medical/health tech conferences in Europe. It has a strong focus on regulatory compliance.
Join industry leaders and experts at Veeva Medical Device & Diagnostics Summito to learn how organizations are shortening the product development lifecycle and keeping pace with evolving regulations such as MDR.
The Medtech Conference is an Unparalleled Gathering of the Leading Innovators, Investors and Executives from around the Nation Discussing the Timeliest Issues and Opportunities.

It' focuses on the time remaining in the transition period and what companies can expect from notified bodies and regulators as the implementation deadline draws to a close, as well as clarifying areas of uncertainty such as implementing acts and defining sufficient clinical evidence.
Biomedical Devices Conferece August 13-14, 2020, Venice, Italy
The conference will consist of a significant number of diverse scholarly events including several keynote lectures, plenary talks, workshops, exhibitions, discussions, special sessions and video and oral presentations focusing on current research and development of biomedical.

RAPS is focused exclusively on regulatory for the healthcare products industry. Covering topics that find new ways to examine and solve regulatory challenges, Convergence includes expert-led educational sessions, pre-conference workshops on the hottest topics in the field and networking with the best regulatory professionals in the world.
It is focusing on EU MDR and IVDR overview, appropriate challenges and strategies for their overcome; company, team and portfolio preparation to new regulations; technical documentation, labelling and clinical data adoption; risk management and quality management systems updates, and many more


Benefit from more than 100 sessions featuring 300+ speakers covering a variety of hot topics including cybersecurity, EU MDR, trade, inspections, M&A, precision medicine, AI, value-based care and many more.
Med Device Ignition Conference 19 – 21 October 2020, Ajman, UAE
Introducing MedDevice Ignition, one-step closer to the Medical device market. The 3 day conference + expo will assist to understand the methodology, regulatory, market-entry, research and development, demand, market drivers, opportunity, brand vision, customer retention and budding entrepreneurs.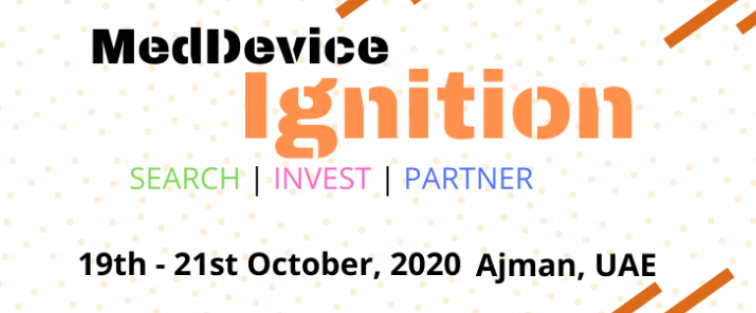 Do not forget, when attending conferences, don't be shy, be strategic with your time, take initiative to create new contacts!
IF you are interested in trade shows as well, read it here.