Weekly Cup of Joe #5 – Incorrect Resource Management
Whether you are freshly minted into the QMS position or you are a founder of a Startup or a product manager with a new project… your strategy requires QMS oversight.
QMS Joe is here to guide you through the plethora of information and support you with handy tips & tricks to streamline your way to compliance.

Incorrect resource Management

Companies are often failing when it comes to properly organize their resources, whether it is material, equipment, people, knowledge, time, financial, etc. Resource management means not just monitoring and following the number of existing resources, but also balancing between the planned activities and the changing resource requirements. Good resource management is vital to project success, and yet one of the most difficult things to achieve, maintain, and control.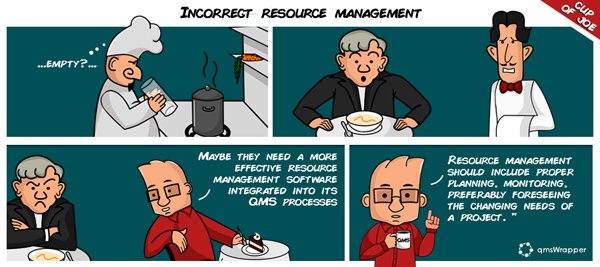 In developing resource plans, there is little chance that the project manager will have all of the necessary resources assigned to the project at its start. Changing resource requirements and needs have to be properly monitored, preferably foreseen and implemented in QMS processes. Since projects are unique resource management and planning should continue throughout the project life cycle.