Essentials of Documentation requirements in ISO13485 – Lesson 3
You will see in the end, it's all about documentation. If not in this part then by the end you will perceive the importance of documenting practically everything. Everything has to be documented, so it can be tracked. In this QMS world, there is an already known saying that says: "…if it isn't documented like it didn't happen."
In essence, everything revolves around documenting statements, required procedures, and records, including all the essential documents for planning, operation, and control of the organization's process. Documentation is key for objective evidence. Objective evidence to support your personnel through the design, development, manufacturing, and support of medical devices.
There are few methodical requirements that act as a driving force for the establishment and implementation of the Quality Management System. And the essential element is the Quality Manual.
Quality Manual
It's the primary guide for your company. It represents the quality culture of the organization, as well it has the role to outline the structure of the documentation used in QMS. It moreover has the duty to delineate authorities, inter-relationships, and responsibilities other personnel for performing within the system.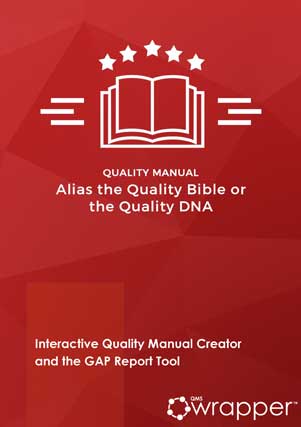 "qmsWrapper includes an Interactive Quality Manual Creator Tool that helps you create your company's Quality Manual, that is fully integrated with your QMS processes or workflows, all in accordance with ISO 13485:2016."
Medical Device File
It's your documented guideline. By ISO13485:2016 you have to establish one or more Medical Device Files. That implies for each medical device type or medical device family. The File should obtain the certificate of conformity or any document that shows that all processes in the design, production, packing, storage, and handling suffice are compliant to the requirements of the standard.
Make sure the files contain the procedure for quality control, the critical factors of the products, and the type of instruments that will be allocated to confirm the critical points of the product.
Keep in mind the Medical Device File can help you improve the production time and make you avoid process duplication, even reduce shipment damage throughout the manufacturing and shipment processes.
Document Control
It's your obligation to control the documents, in every possible way. Your organization has to ensure that all changes done to documents are reviewed and approved. It includes defining a period for which at least one copy of outdated documents will be retained.
The point is that documents, as per which medical devices have been manufactured and tested, be available for at least the lifetime of the medical device.
"qmsWrapper's Document Management includes all the high-end features you'd expect of a comprehensive document control system required to support compliance. It includes version control, detailed file histories, approvals, file tracking, source, tagging, comments and authority control."
Control of Records
Not to get confused with documents, imagine these records are a particular type of documents. They represent a type of proof. They provide evidence of conformity to requirements and the effective operation of the QMS.
Standard requires from organization to define and implement methods for protecting confidential health information contained in records.
PREVIOUS LESSON NEXT LESSON ALL LESSONS