What are the General requirements in ISO 13485 – Lesson 2
Every ISO standard has the system of requirements and each one of them is described in segments.
In general requirements, it's established what is meant by:
Developing and documenting QMS – Establish QMS
Defining your QMS processes – Clarify the structure
Supporting them – Support processes
Managing QMS process changes – Manage changes
Controlling your QMS outsourcing – Control outsourcing
Validating your QMS software – Validate software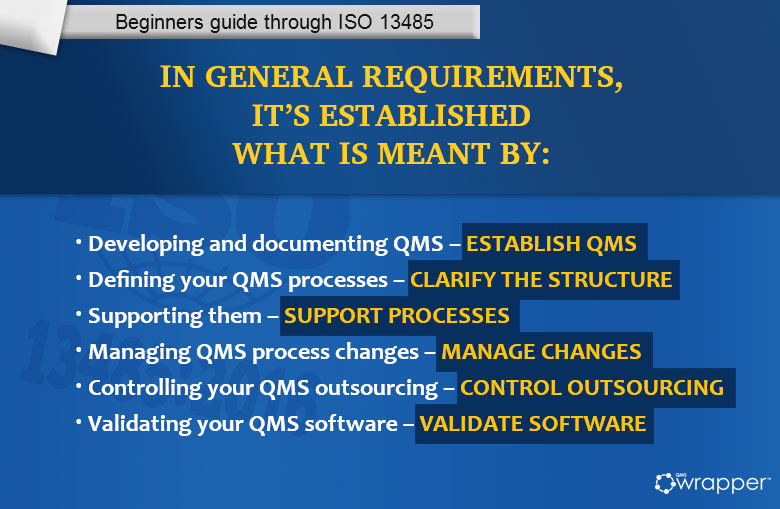 QMS establishment
The key point with QMS establishment is to be done in accordance with the requirements described in this exact standard. And by requirements freely think in terms of procedures, activities, and work instructions. The aim is to demonstrate by development and documentation that your QMS is being carried out and followed.
Structure clarification
Based on your business you will determine the processes that you need for your QMS, by having in mind their application throughout your organization.
Every process has its own risk, so you will also apply a risk-based approach to get easier control of processes and determine their interaction and order.
Supporting processes
Every so often, QMS processes without explanation don't worth much. For better understanding the processes themselves, this requirement is not less important than the others. You need to, for each QMS process, explain a method and criteria to ensure a certain operation is effective. Plus, you have to make sure that every information necessary that supports the operation is available. By supporting processes is equally considered that you have to monitor measure as appropriate and analyze these processes.
qmsWrapper includes ready-made process workflows as a step-by-step sequence of tasks with adequate explanations.
Processes are defined according to the ISO 13485 requirements.
Imagine how easy will be to report and track non-conformities, documenting your CAPAs, or performed training through a few simple steps!
Managing changes
In case of any changes made to any of these processes, you will have to evaluate their impact on set QMS, including the impact on a medical device produced under this QMS. Goes without saying that any changes have to be controlled as well.
Control outsourcing
In case you choose to outsource any development process of your medical device, those processes have to be monitored and your organization has to provide adequate control over it. You are considered responsible for every outsourced process, for its conformity to the standard. The level of control should be equivalent to the risk involved and the ability of the external party to meet the requirements. This process also means you will have to include written quality requirements.
Validated software
You might choose a modern solution for your QMS instead of paper-based and use an eQMS. In that case, you have to make sure that the software you have chosen to implement and/or develop your QMS is validated. What does that mean?
Validation of software is an important and obligatory part of the process when you are using eQMS.
"qmsWrapper is validated according to ISO/TR 80002-2 Medical device software – Part 2: Validation of software for medical device quality systems.
The outcome of the validation process is the Validation Documentation Set that will help subscribed clients to validate our software for its intended use."
Such software applications supposed to be validated prior to initial use and, as appropriate, after changes to such software or its application. With the assistance of software validation, you know you're using reliable and secure software.
Every activity associated with software validation and revalidation will be proportionate to the risk. The risk must be related to the use of the software and of course, it will be documented as it's required by the standard.
PREVIOUS LESSON NEXT LESSON ALL LESSONS