Same Tasks over and over Again? Let a Workflow Process Help You.
In the world of standards, regulations and protocols it is really easy to get confused. They are complex and always changing. Often, the issue is in the details and details are easily missed. Then when you try to make things compliant, you have to constantly be on top of every little detail if you don't want to be constantly doing CAPA (CA anyway). Even an expert can get behind, then even they have to go into QMS paperchase mode.
Compliance demands, that each document needs to be available and their inception needs to be transparent (i.e. who initiated them, who filled/edited which part, who approved it). It can be a user's worst nightmare.
Processes or Workflow
There is a nice solution to such problems: Processes or Workflows. Processes and or Workflows make sure that each step required to complete an action is completed. However, for ISO or FDA QSR compliance issues, QMS Workflow Processes are particularly suited and make the job even easier.
Workflows Processes define the many, or few, steps needed to complete a set of tasks – without missing a step. They should provide clear instructions that lead the user through layers of same/similar forms and help make tasks more understandable.
QMS Workflow Processes on the other hand, also include the detailed QMS tasks required to ensure compliance and help to make QMS much more transparent and traceable. Users will know exactly what, when and how to complete a compliance requirement within their assigned set of tasks.
By jumping from step to step, the required and the proper documents get generated. Furthermore, once a document is generated, that history of tasks that lead to it are more transparent and traceable. Managing documents is a far simpler process and there is little need for the paperchase.
Enterprise-level QMS systems, such as SAP or MasterControl, are big, bulky, and complicated, require a lot of additional labor to maintain the workflows and processes themselves and are not very suitable for small and medium-sized companies. Project management systems can use workflows effectively but users need to have a high degree of knowledge about ISO and QSR requirements to be able to define their own ISO or QSR workflows.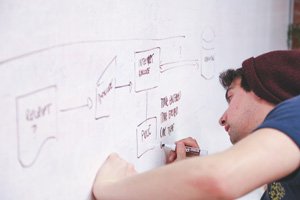 qmsWrapper is the most effective QMS Workflow Process-based QMS system for small to medium size companies. It's a fully integrated system consisting of 5 main and comprehensive business management modules including Quality Management, Project management, Risk Management, Document Management, and Control and Team messaging, all combined and integrated into one easy to use solution for both users and management.
qmsWrapper is very unique in the marketplace.
When using qmsWrapper's QMS Workflow Processes, all the Project tasks are supported plus all the compliances ones as well. Additionally, they are all seamlessly connected through the QMS Module, so the QMS manager, and management, can track and manage the QMS events throughout all the projects within the company.
qmsWrapper's QMS Workflow Processes are designed and built according to ISO 13485:2003 standards (ISO 13485:2016 in progress) and FDA's QSR. Each step is well defined, and when a form needs to be filled, the instruction is right there so the participants know what to do. The main purposes of the QMS Workflow Processes are to ensure that project progress and resulting QMS events including the proper documents can be effectively tracked and managed, with full QMS oversight.
Sample:
qmsWrapper's QMS Workflow Processes ensure that no ISO or QSR compliance issues are forgotten or neglected.
qmsWrapper, rigorously tests and validates every QMS Workflow Process for compliance use as required by FDA and ISO.
Every QMS Workflow Process is related to the QMS through a mirrored system where Projects are mirrored in both the QMS and the DMC modules. This means that if you look at a project in the project management module, when you go the QMS or DMC module you will also find those same projects defined the same way. This makes it much easier for users to understand, and use.

Also, QMS Workflow Processes, "loop" the QMS Manager, and all Management, into the QMS system by role, to create a system called Managing Through Quality.
Project managers can then manage their projects through tasks and issues, which contain QMS events or endpoints, and the QMS manager, including management itself, can track project progress through those QMS Workflows Processes and the resulting quality endpoints.
This makes it far easier to manage a company or projects. Rather than getting stuck in the details, management can view where in the workflows what the project status is.
It all starts with simply choosing the right QMS Workflow Process, there are 54 of them included in qmsWrapper. Simply start and run!
Sample of Prepare Job Description Process: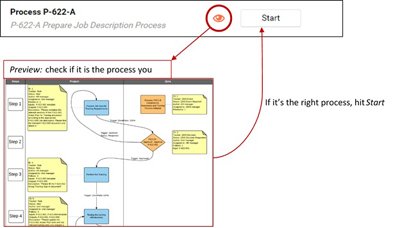 Have unique or particular needs?
There are situations when there are no existing Workflow Processes for your needs or you need to modify and existing one for whatever reason. No problem... you can create or edit existing ones with the Wrapper Workflow Process Editor.
The Wrapper Workflow Process Editor allows you to create Workflow Processes for your specific project needs. They don't need to be QMS, FDA or ISO related at all. You can create simple workflow processes for any kind of routine tasks. Such workflow processes greatly help reduce errors and mistakes.
Building processes using Wrapper Workflow Process Editor is easy. The Start and the End points are already added. Just add your specific tasks, define the use parameters and connect them with triggers. The sequence of issues and triggers from one step to the next can be different and it's up to you how they will be defined and sorted.
qmsWrapper doesn't contain all the possible Workflow Processes required for each ISO Standard or FDA compliance, but you can create your own.
Comprehensive Project and Quality management have never been easier with QMS Workflow Processes!
qmsWrapper provides unique functionality usually found only in larger Enterprise Level QMS systems but is more suitable to Startups and small and medium sized companies. qmsWrapper, makes the best of this functionality available in a manner that makes it possible to foster a real team based culture of compliance.