Awareness of support in ISO 9001 – Lecture 11
Lecture summary:
The implementation of awareness procedures should be a priority of your business
Make the employee aware of the aspects and hazards, and the impacts and risks associated with their work
When implementing ISO 9001, everyone must know what they are doing and why.
How important it is to be aware of the quality management system, you can see by the fact that it has it's own clause in the ISO 9001 standard. And if you wonder why is it so important to be aware, it's because awareness of the QMS increases the motivation and devotion of employees in your company.
But the ISO 9001 standard clearly defines what you must be aware of. One of the main things is, of course, quality policy and quality objectives. By this lesson, we hope you understood how important is quality policy since it runs through almost every chapter. So, you have to know what states your quality policy, understand it, be aware of it.
Awareness and Motivation of Employees
In practice, your employees should be aware of the company's customers, their duties, requirements that have to be achieved, then a connection to the quality objectives and improvements, and last, but not the least important - the quality of their work performance.
One of the crucial points for them to understand is that they are part of the QMS and their contribution to its objectives is very important. Employees must understand the fact that their actions matter.
Awareness of quality policy and objectives
Here, it all comes down to the level of the single process: each process has its objective – the expected output. Employees must be aware that their activities and the delivery of intended outputs promote the quality objectives of the organization. Such awareness will identify the role of employees regarding the quality objectives and motivate them as necessary.
Anyway, the basic principle states that each employee must be familiar with the policy and objectives and therefore they are to be an integral part of the training plan.
Awareness of Product Conformity
This is very important because it's the employees' direct contribution that affects the quality of the product. Practically, it's vital to evaluate how well the employees are aware of the product or service requirements and how their work affects the whole operational work in the company.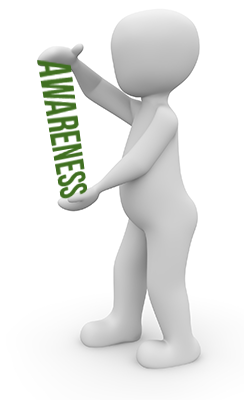 Measuring the awareness
Ok, maybe this is not required by the standard, but it will massively help you to develop methods for measuring the extent of employees' awareness, of their actions, and how they are related to the quality objectives.
It can be done on a few levels:
Level of product
Level of processes
Level of QMS
In practice, you can survey personnel to test their knowledge and awareness regarding quality.
PREVIOUS LESSON NEXT LESSON ALL LESSONS