Design and Development of products and services – Lecture 16
Lecture summary:
D&D includes phases from planning, inputs, controls, outputs, and changes
Practically, you need to have certain some type of design discipline as it relates to the design of processes to produce your products and services.
All these steps and way of its implementation directly affects the quality of the product or service
On every activity that is part of the Design and Development (D&D), you should look at it as a process. Why? Because, the point is that through the process you make sure that the product will be according to expectations, in other words, set specifications. Of course, in these phases, you need to consider the nature, duration, and complexity of the D&D activities. And other activities, such as planning, inputs, controls, outputs, and changes.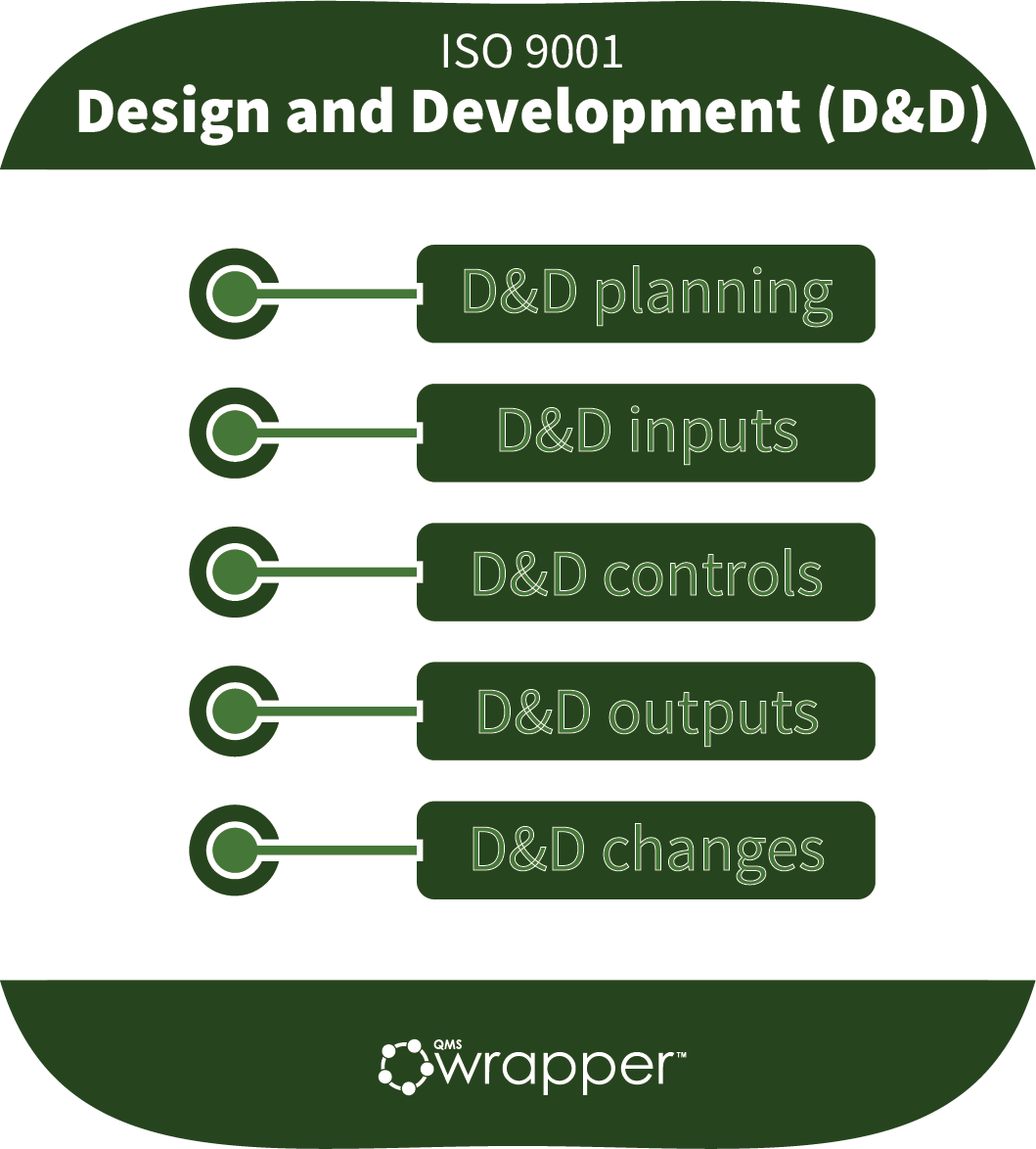 D&D planning
Planning is one of the stages in D&D. By planning you want to make your company follow and complete all the main steps that you have previously defined and determined. The most simple way to determine and define the process stages is using a process chart that illustrates the progress of design and development in your organization. Having a clearer picture of D&D progress will allow you to go to the next stage without any hesitation and also it will help you prioritize the activities of design and development.
Planning can include many various things like marketing reviews, concept, and planning research, prototype design, testing, change, and modifications, etc.
D&D inputs
When planning is done, it's time to turn into action. So by this time, you had to determine the crucial requirements of inputs for a certain product or service that you are designing and developing. But the ISO 9001 standard requires assessing the quality inputs through quality parameters such as adequacy, clarity, and completeness. Plus, it requires your organization to keep documented information on design and development inputs. Examples of those would be:
Documented product specifications
Customer specifications of the product
Minutes of development meetings
Offers, orders, or contracts
List of relevant statutory and regulatory requirements
List of relevant standards or codes of practice
Be aware, each type of input has its own characteristics and each will be documented differently. In general, we recommend you constructing a product file that includes all the required inputs. The format and structure will determine the types of expected inputs and their content.
D&D controls
Here you have to set up, or differently said, define controls that you expect from your organization to apply the D&D activities. Controls of design and development refer to techniques and tools including the qualifications necessary to ensure that the intended results of the activities are accepted.
Point is to set up appropriate control for each design and development stage. It must enable the interrelation and a smooth flow of information between activities. The idea is to ensure that the design and development do not proceed to the next stage without all the necessary outputs of the previous stage or the necessary verification of activity or validation of results.
D&D outputs
At this output stage, you want to demonstrate that the activities that were carried out following the plan through traceability to the design and development inputs. There must be compatibility between inputs and outputs. We are advising you to define for each output documentation its verification against its relevant input.
One of the main purposes of the D&D outputs is to prescribe the fundamental requirements and activities necessary for the realization of the product.
D&D changes
Changes during the design and development phase are natural, therefore ISO 9001 predicted requirements on how to treat them. And that means you will need to provide certain controls to ensure it will satisfy customer expectations.
You must have an overview of the products or service, to see their status before and after the change. Every change needs to be evaluated, verified, and validated. This section is all about control of the effect of the changes on the product.
There are various reasons for change such as errors, failure to provide satisfying results, or improvements to the functionality of a product. It could be changing regulatory or safety requirements, or changes requested by customers, and there are many more.
Reminder for you: these changes have to be documented too. It will serve you as evidence that a change was implemented under a controlled method and was identified, reviewed, verified, validated, implemented, and approved.
This all might seem overwhelming, therefore we advise you to set up a system for D&D change - it is an effective way to manage change in design and development according to the requirements of the ISO 9001 Standard.
PREVIOUS LESSON NEXT LESSON ALL LESSONS